A considerable amount of progress is generated in the reasonably priced smart phone market. It has improved the mobile connectivity power in the country, and created delight on the faces of those who once upon a time would not have even dreamed of owning a colourful phone. The affordable smart phone segment has grown tremendously in a short span of time, and so has the competition. On the thought of an inexpensive yet efficient phone, the first glimpses that surface are Redmi Note and the new Moto G, it is difficult to choose between the two, let's compare the specs and zero in on the better product.
Design:
Xiaomi Redmi note is a trendy slender phone, it's got a stunning screen that makes the viewing experience all the more spectacular for a budget phone. It is light weighted and weighs 199g and it its dimension is 154×78.7×9.5mm. For a complete 24×7 enjoyable experience there are removable cover accessories to choose from, with a range of fantastic designs available in the market. It is a long slender and dense phone that is strikingly attractive at first sight.
The design structure of new Moto G draws inspiration from Moto E, and there is nothing too new or exciting about the design. Like any other Moto phone it stands out highlighted by the glossy chrome decoration in front. It weighs 149g and its side width dimension is 10.99mm. There are two micro SIM compartments at the back, like the earlier Moto G phone, the new model has a back panel painted with a flecked back. The handling encounter is great and consumers can get to feel the polish and dense nature of the phone, and those with firsthand experience did not face any difficulty with the handling and the rear is relatively smudge resistant.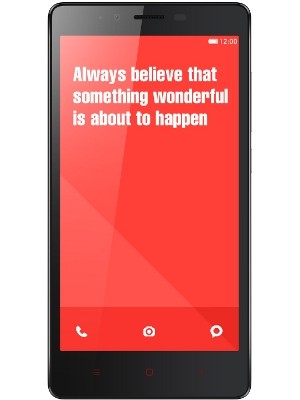 Display:
Xiaomi Redmi Note has a 5.5 inch HD display with pixel resolution capacity of 720×1280 and its pixel density power is 267ppi.
The new Moto G sports a lively 5-inch display screen, bigger to its predecessor by 0.5 inch and its pixel resolution power is 720×1280 pixels. It is a sturdy phone shielded by a robust encasing of Corning Gorilla Glass that provides maximum protection from even minute scratches. The readability effect is great and the alphabets are crisp and crystal clear, the viewing angles are great and the text visibility under peak sunlight is mind blowing. The rhythm of colour coordination on the new Moto G is not as impressive as the first Moto G phone.
Software:
Xiaomi Redmi Note operates on an efficient Android 4.2.2 Jelly Bean software, the browsing experience is flexible, the home screen supports many apps, and there are many themes as well. Redmi Note has a Lite Mode feature that makes it an ideal phone for people who are visually impaired. To switch to the light mode consumers can go tap the general settings tab button under the settings menu, the Lite mode screen makes the screen look like a Windows Phone, it has large fonts and big tiles and simplified texts for message apps and phone. Lite Mode is elderly and first time smartphone user friendly, and it does not interfere with the numerous apps and settings.
Redmi Note has a MIUI 6 engineered on a similar theory to Android KitKat phones and is adopted from iOS7.
The new Moto G equipped with a dual SIM feature is powered by an Android 4.4 KitKat software. It has a range of on screen navigation controls, and the design of interface is parallel to Google Nexus 5 which supports a Google Now launcher, and there many other apps as well. There is an app known as Assist changes that alerts users who are in a meeting or sleeping and there is also a Do not disturb app that allows owners to auto reply to missed calls while in a meeting. The Help app has actionable tips, FAQ's and tutorials, and the Motorola Mitigate app allows consumers to transfer content to the new Moto G from an old Android phone.
Camera:
Redmi is fitted with 13MP rear camera that has the auto focus and LED flash feature. The video capturing power is 1080p and the recording interval is 30fps. There is a 5MP camera in front, which is ideal to indulge in amazing selfie moments, the camera is not high-tech but impressively user friendly, with smile or face detection and HDR, touch focus and geo-tagging.
The new Moto G has an impressive 8MP rear camera that supports flash and auto focus and also a front 2MP snapper perfect to engage in delightful selfies. Motorola has incorporated a robust camera system into the new Moto G, but the technology is not on par with high-tech smartphones. The camera has two controls one to switch from the rear to front lens, it can be done via a swipe from the corner to the right end and the other to switch on the video camera. The optimal functioning of camera is supported by shutter sound, windscreen mode, geo-tagging, Panorama mode, slow motion, focus and exposure, LED flash and HDR mode.
An important point to remember with the new Moto G camera is it does not have the touch focus feature. An image is captured with just a tap on the screen, and users would have the facility to drag pictures or re-structure an existing picture. A person with firsthand experience of camera capturing output of the phone stated that the shot images were crisp and can be uploaded on social networking sites. The colour output is rich and the level of crispness is top class and out of this world.
Conclusion:
Redmi Note 3 and the new Moto G are convenient products to own for those who desire affordable efficient phones. The design architecture of the new Moto G is more attractive than Redmi Note 3. Redmi is easier on the palm because of its remarkable level of lightness at 199g and the new Moto G weighs 149g. The new Moto G provides richer user experience than Redmi Note 3, the features are more effectual and powerful built with deeper engineering technologies.
Author Bio : The Author have great interest in writing article on Technology and Handset reviews, currently he is working with 91mobiles.