Vintage Textiles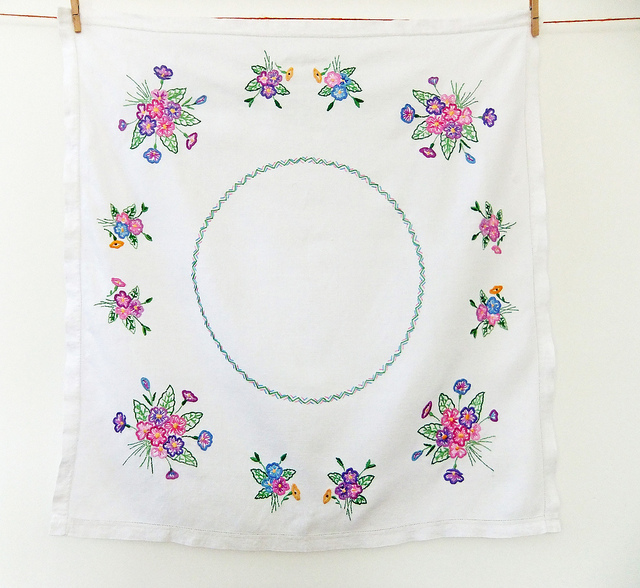 Vintage and antique textiles have a timeless appeal and are treasured and coveted for the glimpse into the past which they offer. No other collectors item offers the same amount of beauty at such low prices as vintage and antique textiles do.
Collecting vintage and antique textiles is a hugely rewarding and surprisingly easy hobby to take up and many fine examples may be found for a few pounds at charity shops and jumble sales as well as online auctions.
A good place to begin with your vintage and antique textile collection is with table linen. Embroidered and printed examples from the 1950's and earlier are very popular and becoming more scarce as the few remaining are snapped up by savvy fabric lovers.
Printed tablecloths are harder to find than hand embroidered but the thrill of spotting an excellent, clean, still bright example is worth the effort!
When it comes to working out which examples of table linen are vintage and which are reproduction, you need to use your instincts. A well used mid-century cloth of linen will be extremely soft to the touch, the label may still be present in printed versions and it is easy to see from the style of this, whether you've found an original or a repro. piece.
When it comes to hand embroidered pieces, only buy the very best examples; it's obvious when the needlework isn't great as threads are loose and the stitches may vary a lot in size.
If you can find sets with the original napkins, so much the better and if they are in good condition there is no reason not to put them to good use on your own table.
Vintage aprons are another lovely way to collect and preserve the textiles of the past and many of the aprons from the past utilize stunning novelty prints. If you come across examples from the 1950's or earlier then make good use of them by hanging them in your kitchen where you can enjoy their charm every day.
Displaying other textiles is not so easy and this is where a glass fronted cabinet can come in handy! Fold your fabrics and cloths in scrupulous size order, and pile them on top of one another. The glass will both protect and display your textiles so that you can enjoy them daily.
If you are keen to give your vintage textiles a new lease of life (and you can bear to cut them up!) then you could consider some of the following ideas.
Stitch embroidered tablecloths together to make a curtain for a doorway or window.
Use half-aprons as cafe curtains; simply add a hem to the waist band or tuck them into the rail.
Sew new cushion covers using old table cloths both printed and embroidered.
Make children's clothing out of old linens.
A collection of vintage linen and fabric is a great way to open up your fabric stash and bed sheets from the 1960's and 1970's offer large amounts of printed cotton which are fabulous for quilting and other large scale projects.
Wash your vintage linen in a gentle laundry detergent before using in any craft project in case of shrinkage and check any existing labels for ironing instructions.