How to Up-cycle Old Furniture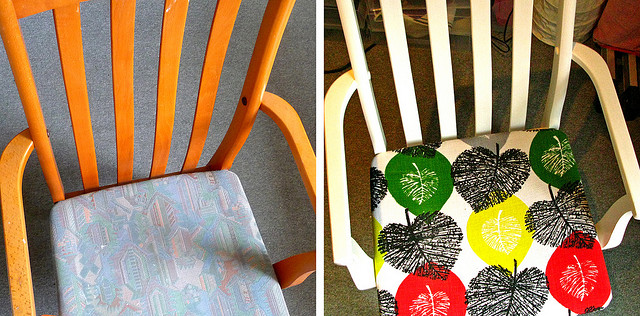 Up-cycling, the trend of revamping old items into new improved versions of themselves is a popular way to improve the look of your home without buying new items.
Eco friendly and cost effective, re-designing old furniture is a wonderful way of making the most of what you have or indeed what others don't want anymore.
Old furniture can be found cheap and even free from many sources; keep your eyes open when you see skips in front of houses as these can be good sources for old chairs, tables and even sideboards.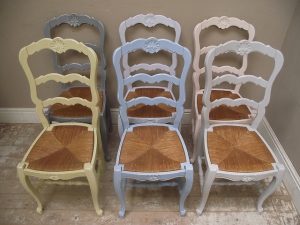 Look out for wooden furniture rather than more modern versions made of melamine which is not as easy to paint and won't last as long.
The shape of each piece which you rescue is very important as is the overall condition; be wary of furniture with evidence of woodworm or with extensive damage from water or fire. Pieces like this are usually more trouble than they are worth unless they are a rare or very old example.
Once you have rescued a good piece of furniture, clean any dust or debris from it with a dry cloth, next remove any fabric or upholstery and assess the condition of the interior.
It is sensible to wear a mask at this point as old paint can contain lead traces and older upholstery can consist of horse hair which will disintegrate as you work. Ventilate your work space well and if possible, work outside.
As soon as you have cleaned and removed any upholstery, it is time to begin sanding the wood down. Begin with a medium grade sandpaper and work with a light touch; there is no need to rub hard, even, light pressure is more effective.
If you have a piece which has many or thick layers of paint already present then a palm sander may be more effective than anything and they make light work of even gloss paint…remember to wear your mask though!
Once your piece is fully sanded and there are no traces of the old paint present, it's time to grab a paintbrush! When it comes to painting furniture it is necessary to use a water based primer to begin with; this will ensure that your finished piece looks good and is able to withstand a few knocks!
Eggshell paint makes a good all round choice in terms of your finished piece and two layers should be ample. Wait until your primer is fully dry before you add any paint to the piece and paint carefully, less is more.
When you have finished painting and the piece is dry, you can think about adding a fresh cushion to seats or some new knobs to bedroom furniture. A set of bright knobs is a lovely way to update a vintage dressing table or wardrobe. If you are feeling particularly creative you could paint a simple design on bedroom furniture or add transfers.
When it comes to furniture there is no need to spend hundreds of pounds; great quality older furniture may be bought cheaply or rescued from all kinds of unlikely places.
Keep your eyes open and use your ingenuity to see beyond chipped paint and faded upholstery and your home will reap the benefits.