New OLX Android App Redefines the Classified Ads Market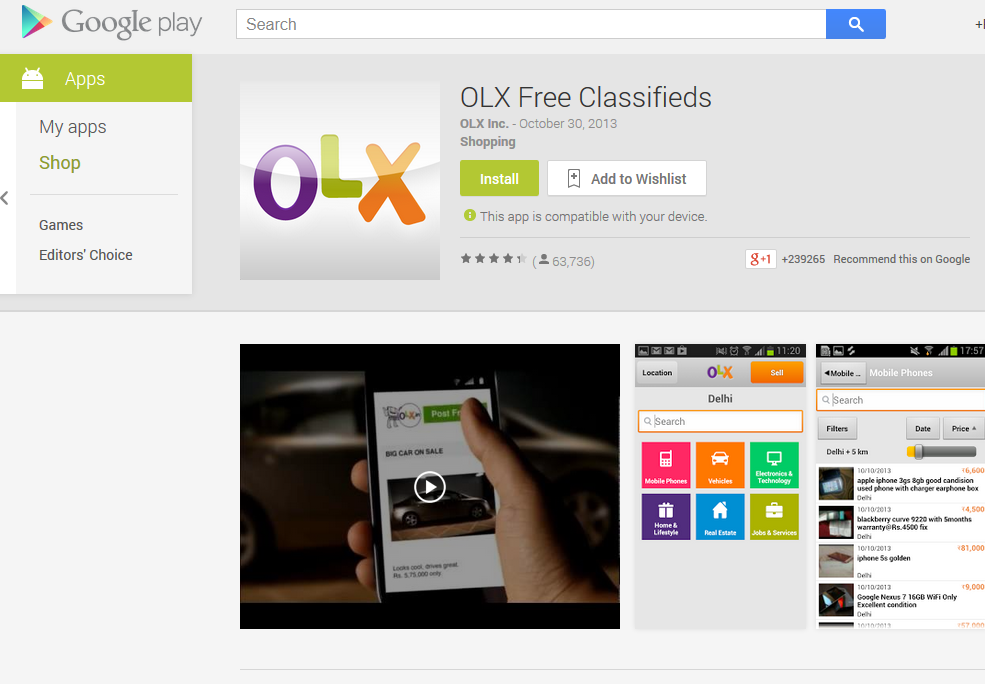 After revolutionizing the Indian Internet users, including everyone from the young to the old, OLX.in is now available on your smart phone and tablets. The new OLX Android App is the No.1 Free Classifieds App that lets you buy and sell almost anything on the go. The app carries forth all the advantages of the site OLX.in and brings it within the control of your palms. It eliminates the need to be near a PC to be able to post that important ad that just came into your mind. The app brings into life the notion of buying and selling "On the Go."
OLX has dominated the Indian online classifieds market for several years now, offering an easy-to-use online platform for posting free ads for selling or buying products or services in targeted areas. The site allows users to buy/sell anything ranging from Mobile Phones to Books, from Jewellery to Cameras, from Laptops to Cars, from Real Estate to Pets and everything in between. You can even post jobs or your CV online – anything depending on your needs. The new OLX Android App has added another level of convenience to an already successful and effective platform.
Using the OLX App is quite easy. It involves just taking the picture of the product using your phone's camera, adding a description of the ad and posting it on the website OLX.in. In addition to posting your ads via the app, it is also possible to search and browse classifieds. The app especially helps source the ads based on the location of your phone. It is also possible to manage the ads, read and reply to messages and manage the favorites by entering "My OLX" section.
The OLX App also comes with advanced social features that allow you to share all your ads with your social network. Once you have posted the ad on OLX, use the app to share it on your Facebook page, on Twitter and even on Whatsapp.
Just a few years ago, it was impossible to think of posting free ads in India and getting a response from them. OLX.in redefined the classified advertising segment, bringing free classified advertising within the reach of the regular consumer. Today, OLX has millions of users on the site who are either selling or looking for different types of products and services. The introduction of the new Android App is another revolutionary step by OLX, taking the Indian classifieds market to the next higher level. Now you can buy and sell anything "on the go" without wasting time and opportunity.
The new OLX App v3.3.2 is available for free download and installation on your Android device. It is around 2.8 MB in size and downloads almost instantly, saving you time. It can be downloaded onto any device with Android 2.1 or higher version. Simple, fast and resourceful, this app is a must have for everyone with an Android device. You can never know what you will need to buy or sell at any given time.