Icelandic Souvenir: 8 Gifts To Bring Back From Reykjavik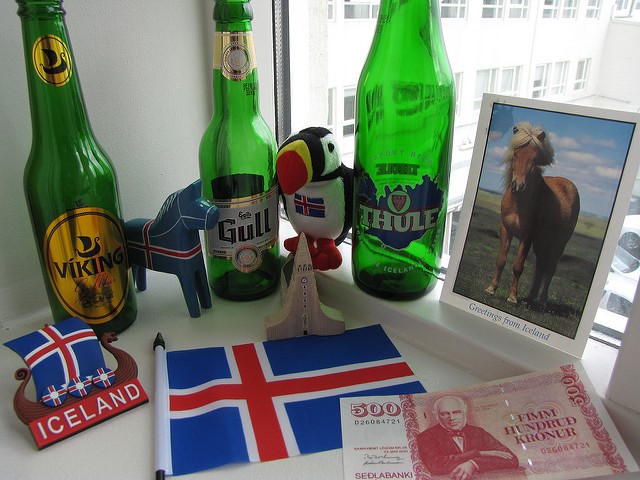 Planning a trip to a wonderful island country of the Vikings and don't know what to bring back home as a souvenir? This article will help you to solve the problem of the greatest gift ideas from Iceland.
Fortunately, the island is full of unique and unusual souvenirs that will not only surprise, but will please your beloved ones and benefit them. So, immediately abandon the traditional, but such boring magnets and cups – there are a lot of more interesting things to bring back from Reykjavik!
Delicacies
Culinary preferences of Icelanders may seem strange to some tourists. Although, if you exclude too exotic and strange dishes from this list, then the following culinary souvenirs can be brought back from this country:
smoked salmon with fennel;
Clean Iceland set – it consists of dried cod, cod liver, seaweeds and other seafood;
pate from cod liver;
colored salt;
herbs, prepared from seaweeds;
tea from birch buds and Icelandic moss;
Omnom Chocolate – salted Icelandic chocolate.
Icelandic alcohol
Alcoholic drinks in Iceland are quite expensive, but also delicious. Therefore, it can be an excellent gift or souvenir, especially, for connoisseurs of high-quality and branded alcohol. So, if you decide to bring strong alcoholic drinks in Iceland, just choose:
Flóki – Icelandic whiskey;
Brennivín – potato schnapps;
tinctures of Icelandic berries and moss;
varied beers.
The unique taste of local strong alcoholic drinks is caused by the purest Icelandic water used for their preparation. In order to save up on alcohol, it's better to buy it in duty free store at the local airport.
Woolen goods
Iceland is famous for its greatly developed sheep breeding. Therefore, woolen clothing is very popular there. Given the harsh climate, don't be surprised by the tradition of making wool goods, which allow warming up in the worst frosts. They are surprisingly high-quality, which retain their presentable appearance for many years. So, if you don't know what kind of souvenirs to bring back from Iceland as a gift to your relatives, then choose woolen:
capes;
plaids;
socks;
gloves;
hats, etc.
Wool sweaters deserve special mention. They are knitted only by hand and they are able to warm, even when the air temperature is much lower than zero. This is due to the fact that a special kind of yarn is used for these sweaters – 'lopi'. Its outer layer is so coarse that it will provide protection even from moisture, and the inside layer is soft and warm
Winter clothing
By the way, in Iceland you can buy high-quality, durable winter clothes providing comfort in any frosts and bad weather. There are many shops in the country that offer reliable:
jackets;
sweaters;
pants;
hats;
mittens, etc.
Among the variety of brands, 66 ° NORTH clothes deserve special attention. Local fishermen as well as fishermen from other countries of the world adore winter clothing of this Icelandic brand.
Jewelry and bijouterie
Jewelry in the traditional form is unlikely to surprise somebody. But jewelry made of lava or jewelry with the addition of lava is something unique and special.
In Iceland, there is a lot of volcanic lava. Thus, Icelanders began to make jewelry from it:
beads, worn on silver chains;
silver earrings with droplets of lava;
lava stones;
watches with stones made of lava;
different lava ornaments.
If you don't want to spend much money, just collect a few stones of different sizes and, using imagination make jewelry at home.
Cosmetics
Don't know what to bring back from Iceland as a gift to mother, girlfriend, or sister? Of course, the Icelandic cosmetics, which are simply magnificent because of unique, natural, and pure components used for its creation:
water with a lot of minerals, including thermal;
Icelandic herbs;
salts from geothermal sources.
It's hard to mention specific brands and types of cosmetics, because this question is somewhat delicate – everyone needs the specific product, whether it's anti-wrinkle or skin tightening cream, etc.
Music CDs
In fact, every sixth person in Iceland is a writer. Apparently, the unique northern nature promotes the discovery of the creative abilities of the locals.
Although the Icelandic bands are practically unknown for most people, the music CDs with their records can be an excellent gift for music fans! Therefore, if you or your friends like unusual, but high-quality music, be sure to bring back a few discs!
Vikings' tricks
Do you remember that Iceland is a country of Vikings? It's believed that they were the first to sail to the American continent! You can buy there many souvenirs related to the subject of the Vikings:
scale models of ships;
helmets with horns;
mugs, ashtrays in the form of a Viking ship;
clothes and much more.
As you can see, it's possible to bring back from Iceland not only original, but also very useful souvenirs. The main thing is to choose a gift not only responsibly, but also with imagination.
Now you can head to Iceland knowing what to bring back to your relatives and friends, and car rental Keflavik under 25 will be a great way to find the appropriate stores.