How To Create A Social Media Content Plan For Your Small Business
When it comes to marketing efforts, having sufficient resources is often a struggle for small business owners. Nonetheless, social media is a cost-effective way of getting a company in front of a lot of people at a relatively small cost.
According to zephoria.com, 1.45 billion people on average log onto Facebook daily in 2018 and are considered daily active users, and that number has grown by 13% since last year. With this information, it would be a mistake to dismiss social media as an important marketing avenue for your small business.
Still, many small business owners continue to ignore social media because of the amount of time that managing accounts and creating daily content can take out of your already busy schedule. If this sounds like you, read on.
Here are four essential elements to help you get started.
1. Establish your Goals:
First and foremost, you should determine what you want to accomplish with social media. You must decide whether you want to drive more traffic to your blog or website, to create brand awareness, or increase the sale of your products and services.
After you have set your goals, you can then go ahead to select your preferred social media platform.
2. Determine your Audience:
Your audience will determine whether your small business moves to the next level or not. As a result, you must specify who they are, and what suits them best. In fact, you should do a bit of research to understand their most preferred social media platforms as well as products and services that they use most. In doing so, you are most likely to achieve your goals rather than flip-flopping with content that puts off your intended group.
3. Identify your Social Media Platform:
At this point, you've already set your goals and identify your target group. Next, it is critical to develop and share content on a platform that best fits your business.
Your audience should be at the back of your mind when choosing your platform because they are the main stakeholders. Also, the nature of your business can guide you in making this critical decision. For example, if your business produces as very visually appealing product, like a beauty salon, antiques, or graphic design, you may consider visual platforms such as Instagram and Pinterest. As far as interaction, Twitter and Facebook are still the frontrunners in offering the best way to interact with like-minded individuals and potential clients. If you do B2B sales, you can use LinkedIn to generate sales leads as well.
As a rule of thumb, you should only take on what you can manage. For instance, if you create social profiles on several platforms, ensure you post content in all of them at regular intervals. Do not leave a "ghost profile" or one that only has a few posts, as this can have negative implications for your brand.
4. Engage your Audience:
Don't just share content- engage as well. In doing so, you create substantial client following and gain authority to control their behaviors. There are various ways you can do so including prompting your target group to like, comment, and share content. On the one hand, you create Twitter lists to stay on top of what is trending, and on the other, use tagboard to navigate around relevant hash-tags.
Final thoughts:
Social media is the most critical aspect for the growth of your business. Therefore, as a small business owner, you should always be looking for the best tools to help you and your business stand out from the rest.
One such tool is the Social Blastr social media management dashboard, which you can get for free at http://social.socialblastr.com. Social Blastr offers both free and premium versions of this time saving software that allows small business owners to create and schedule content for all your social platforms from one dashboard. Besides managing social media accounts and saving you time by allowing you to interact with all of your accounts from one location, the tool enables you to gain access to critical analytics effectively.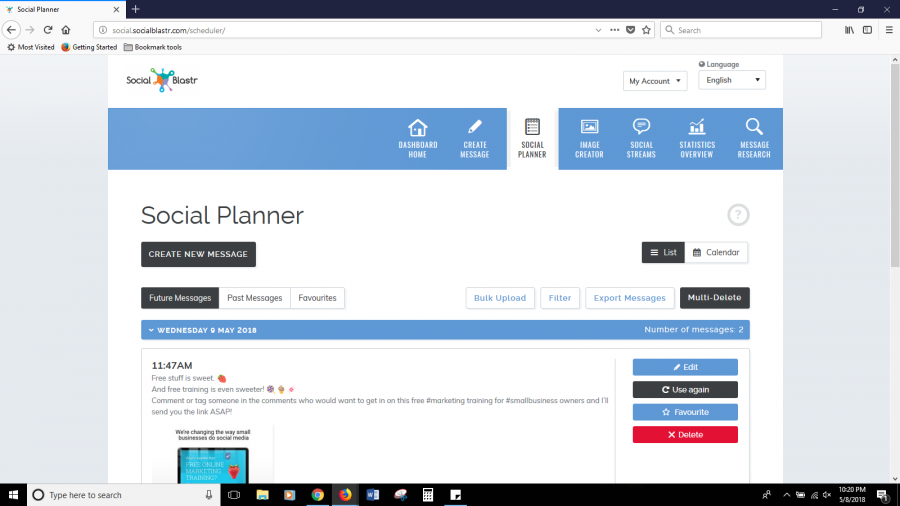 Visit https://www.socialblastr.com to see how Social Blastr can help grow your small business's social media presence without breaking the bank.