Fantasy Football: Can RG3, Luck and Wilson Build On Rookie Success?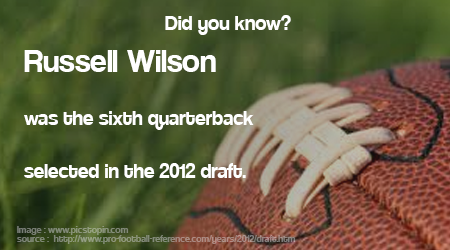 If you play fantasy sports for the opportunity to win fantasy football prizes, you need to pay attention not just to the veterans in the league, but also to see what the rookies and the younger players in the National Football League are up to. If you want to win fantasy football prizes, here are some tips, courtesy of DraftStreet.com.
The sensational rookie seasons of Washington's Robert Griffin III, Indianapolis' Andrew Luck and Seattle's Russell Wilson means that all three are likely to be drafted as starters in 12-team leagues, and deservedly so.  But it is unclear how quickly Griffin, Luck and Wilson can move into the top tier of quarterbacks.
Robert Griffin III, Washington Redskins
The second pick in the 2012 draft won the Associated Press Rookie of the Year award, throwing for 3200 yards and 20 touchdowns while rushing for 815 yards and seven TDs. Griffin's 8.1 yards per attempt was best in the league. But Griffin's amazing debut season ended with a knee injury that required surgery on his lateral collateral and anterior cruciate ligaments.
With training camp underway, it was not clear if Griffin would play in any exhibition games, though he was said to be on pace to play in the season opener. But even if Griffin is healthy for the start of the season, it remains to be seen if coach Mike Shanahan, who has already faced controversy of his handling of Griffin, will limit Griffin's running, which would hurt his fantasy football prizes standings as well as NFL value.
Andrew Luck, Indianapolis Colts
Luck was one of the most highly touted QB prospects in years. The Colts said goodbye to Peyton Manning, one of the best quarterbacks in NFL history, when they brought Luck aboard after taking him with the first pick in the 2012 draft. And Luck lived up to the hype, setting a new rookie record for passing yardage with 4,374, seventh-best in the league.  In the year of the running QB, Luck also rushed for 255 yards and five TDs.
Luck also had 18 interceptions, third-highest in the league, and his 54.1 completion percentage was only 31st. But from a fantasy standpoint, the most concerning number is his 23 TD passes.  That number figures to rise as Luck gains more experience, but bear in mind that his rushing TDs will probably go down .
Russell Wilson, Seattle Seahawks
The Seahawks gave Matt Flynn a big contract, then saw Wilson, a third-round draft choice in 2012, beat out Flynn in training camp and go on to tie Peyton Manning's record of 26 TD passes by a rookie. Wilson threw for 3,118 yards and had 10 INTs and also ran for 489 yards and four TDs.
Wilson appeared headed for a boost in value with the Seahawks acquired Percy Harvin, but Harvin hurt his hip and will miss much of the season. Sidney Rice, Seattle's top receiver in 2012, went to Switzerland recently for a procedure on his knee, but was fully participating in practice in mid-August.
 Jon Lewin writes for a variety of fantasy sports websites.