None of us wish to get into trouble or unnecessary disputes when we are traveling abroad especially not due to our outfits or controversial accessories. It is quite unfortunate to see that most of the times we are not taught to travel smart. Wisdom always comes when we travel ourselves and make errors.
The objective of writing this article is to provide guidance to our readers who are planning to take a vacation soon. There are many places on our planet where people get offended by how you dress. Therefore, it is imperative to avoid a few clothing mistakes and not commit fashion faux pas when vacationing. Read further to know these mistakes and avoid them.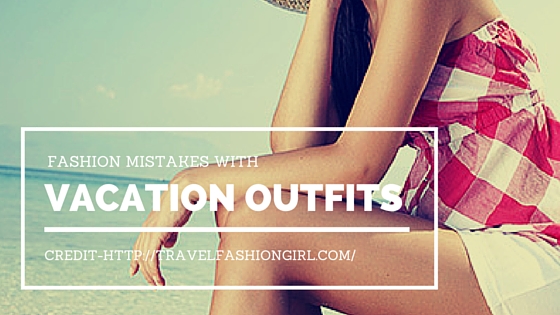 Wearing Inappropriate Footwear
A few of us tend to carry and wear high heels especially, if we are planning a trip in Italy or France. It is, however, a big mistake as heels can easily twist your ankle when walking on uneven surfaces. In addition, wearing open-toed shoes is also a popular error committed by many women. You should avoid wearing these shoes as some places might leave you susceptible to cuts and toe infections.
It is advisable to wear running shoes with white socks or you can even think of wearing casual sneakers.
Not Wearing a Scarf
Another peculiar mistake with vacation outfit is not carrying a scarf. When you visit in certain countries such as the Middle East, North Africa, and even Asia, you will need a long and light-weight scarf or shawl. These places have religious sites in abundance, and women especially need to cover their heads and shoulders.
Carrying a Wrong Bag
Quit irrefutably, a travel tote bag has most of the times failed women travelers. There are times when you get convinced that a tote bag is capable of handling everything as opposed to fashion clutches that are small in size. Your perception, however, starts to change when you see the zipper of the bag breaking at a previous
night of the travel or just when you have crossed the security check at the airport.
That's exactly why you should stay away from tote bags and instead look for women formal clutches for vacations. These formal clutches are excellent bags that have stylish aesthetic appearance and are functionally wise.
Outfits that Show Lot of Skin
It may be normal to wear short pants and tank tops in your country; however, it may turn many heads when worn in a different country. In many countries it is disrespectful not to cover knees and shoulders, and you are for sure vulnerable to gain unneeded attention from people around. Therefore, wear that is comfortable yet common to the locals. Avoid wearing clothes that bare too much skin.
Wearing Offensive Art
Perhaps you may understand art more than others do, but do not make a mistake of always wearing a sleeve on your heart when traveling. You don't want to come across as an ugly westerner who wears offensive patriotic elements on his or her clothes.
Wearing Expensive and Boisterous Jewelry
You are more than likely to attract attention of pickpockets when you wear loud and shiny jewelry. You are there to travel and not become the centre of attention. And, so, it is advisable to leave all your fancy and expensive jewelry behind and travel freely.
Not Covering your Tattoos
In some countries, tattoos signify you as a part of some gang. Especially when you visit Japan, make sure you hide your tattoos or you are likely to be mistaken for a gang member and face problems in being admitted to public shrines, temples, and other religious sites. People of those countries, who have no cultural connections with tattoos, do not like speaking to or hanging out with tourists who have tattoos.
It is strongly advised to cover your tattoos, if you have any.
Not Keeping Your Attire Simple
Fashion is unfortunately connected to a negative connotation of being loud and boisterous. Some men and women think wearing bright colors make them look fashionable. But, that's far from the truth. Fashion is in fact about simplicity. If you want to look attractive and stylish in your travels, make sure you stay simple with your vacation attire and accessories.
Matching the Belt and Shoe Color
May be it is these fashion weeks or fashion blogs that have made people believe that matching the color of belt and shoes is vital for being fashionable. Well, it's nice to have colors being matched; however, not necessary! Feel free to mix and match varied colors of belts, shoes and bags, but ensure that these colors complement your vacation outfit.
Wearing Only Branded Clothes
This is one pertinent fashion mistake that you need to avoid. Fashion is just not about wearing expensive branded clothes. You also need to carry a stylish quotient. Learn how to mix and match right jewelry and outfit appropriately. Also, you can look for fashion clutches for evening parties, you never know when you might need them!
When we travel abroad, our objective should be to blend with the locals along with being fashionable. The mistakes mentioned in this article will definitely provide you with the right insights on vacation outfits and also assist you in avoiding these errors.