Cast Iron Radiators For Your Period Property Renovation
Britain is fortunate enough to have a huge number of fantastic properties from a wide range of architectural periods that still retain many of their original features. Often, these features can take some rediscovering under all the debris and developments of many decades of modernisation but once found can be restored to their former glory.
The restoration of period properties is big business in the UK. As a result of its popularity, a range of companies have grown up to serve the professional and hobbyist renovators whose quest to restore these homes to their former glory demands the supply of materials to ensure renovation sympathetic to the original design.
Creating a genuine period look in a home can come from a variety of sources. Salvage and reclamation can offer a number of original items in keeping with the age and era but for others there aren't suitable originals to fit the particular property. Where reclamation isn't a viable option, there is a range of high-quality reproduction items that deliver what the salvage yard can't offer.
Old Radiator, New Radiator
When it comes to renovating a property, the devil of getting it right is in the details in each room. Choosing colours and furniture that are in keeping with the period when the home was built is the relatively straightforward, but putting back the fixtures and fittings can be more complex.
One of the features of period homes that has been overlooked is the installation of heating that is appropriate to the era of the property can be a challenge, particularly for much older properties. For homes built before central heating was a viable option, putting in something like underfloor heating is a possibility for those who don't want to have a visible system that jars with the overall look and feel of the property. However for properties dating back to the early 1800s there are plenty of viable options in keeping with the era.
Problematic Originals
Reclaimed radiators can be problematic when it comes to installation. Different gauges in the pipes and the use of imperial measurements in their construction can pose a number of difficulties for heating engineers and lead to a less-than-perfect solution when it comes to running an operation heating system.
Reproduction cast iron radiators give a range of options that will suit not only the time period in which the property was built but also allow the heating to be run efficiently. The wide range of styles on offer also helps to reflect individual style of the renovator. From ornate filigree designs to simple curved or straight-edged styles, there are plenty of radiators that will fit right in to the style of the home.
Photo Finish
Depending on the overall look you're aiming for, there are a range of finishes available that can help to either enhance the look of the radiator or let it blend into the room. Cast iron radiators polished to a high-shine natural finish are very in keeping with the Victorian period, while painted radiators became much more common through the Edwardian period.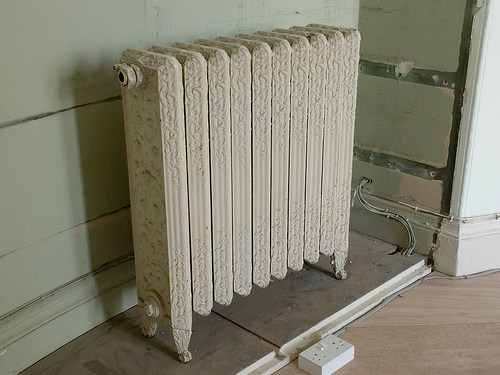 Of course, you can paint your own radiator but you can get a better finish by opting for it to be hand-finished in the workshop before delivery. From eggshell oil paints in a range of historic colours to highlighted finish, expert finishing will give you the best possible radiator for your room.
Conclusion
Choosing the right radiators to suit the era of your renovated property can add to the period style while ensuring you have a home that is warmer than your average Victorian mansion. Picking a reproduction radiator made to modern standards will enhance your renovation and give you all the heat you need for a comfortable home.