Best PDF to Word Converter for Mac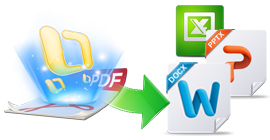 There are times when you might need to copy images and sentences from PDF documents but the files are not editable and are protected with passwords. If this is becoming a problem, you will be glad to know that there is tool that will allow you to convert PDFs easily to editable Word documents. Here, the best PDF to Word Converter Mac is recommended. This is the iSkysoft PDF Converter for Mac and it's a simple program that anyone can use to convert PDF files to other file formats for editing, sharing, saving and so on.
iSkysoft PDF Converter Pro for Mac is a professional tool designed especially for Mac users. This tool has functions to convert PDFs to Word quickly whilst preserving the original layout, text, links, images, graphics and tables with high accuracy. When using the best Mac PDF to Word converter, you are able to convert encrypted and standard PDF files to .doc and .docx files with just a few mouse clicks. Follow the information below on how to transform your PDFs to Word with this efficient Mac PDF-to-Word converter.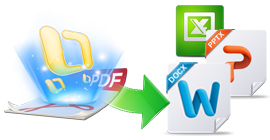 1. Launch the converter program and upload the PDF files.
After downloading the program, you can open the application folder to import your PDF files for conversion. You have the option to drag and drop a single file or several files unto the program's interface.
Bear in mind that you could opt to convert a specific range of pages. In addition to the converting PDFs to Word, the tool will allow you to replace or add some text in the document as well as to do other editing such as extracting images, deleting pages and so on before completing the conversion process. There are additional details available if you need to know more about editing PDF files on your Mac computer.
2. Choose Word DOC or DOCX format for Output.
Click the File button and select Word format for output before starting the converting process from the PDF on your Mac. Remember that you can also choose a specify Page Range for converting partial pages from your PDF to Word pages. Choose a folder for output if necessary, otherwise the program will use the default one.
3. Begin the Conversion process to change your PDF to a Word Doc.
Click on the Convert button in order to start the process. The entire process will only take a few seconds when you are working with most PDF files. Once the process ends, you can click to open with Microsoft Word to ensure that everything was converted properly. After the conversion, you can easily reuse or edit the PDF content on your Mac.
There are additional resources available if you need to know more about the best PDF to Word Converter for Mac.
About the author:-
Tom Brown is a specialist technical content writer. He writes many articles for online users. Follow him on Google+