Best Dishes For A Japanese Themed Party
The Land of the Rising Sun boasts a diverse culinary experience that always feels fresh, delicious, and even healthy. If you're hosting a Japanese-themed party, chances are you're looking for the best dishes to include in your menu.
Things to Consider When Choosing the Dishes
The dishes you want to include in your Japanese-themed party depend on the style and concept of your event. For example, guests would enjoy a steaming bowl of ramen better in a casual sit-down party than they would in a standing-only room.
Small choice picks like delicious sushi and sashimi slices would work great as a meal course and as a section of the buffet table.
The vibe of your party can also influence the presentation of your dishes. Most of your guests would probably appreciate Japanese dishes when served with their classic flavors and using traditional preparation techniques.
On the other hand, more fashion-forward and trendy parties might like a little bit of fusion in the cuisine. Popular fusion nowadays includes Japanese dishes crossed with Parisian tastes, and, of course, local American flavors.
Top Choices of Japanese Dishes
If you've got a vision in mind, here are some of the best dishes for a Japanese-themed party. You can enjoy these as is, or modify them to suit your event format and theme.
Bento is a single-portion package of food, and it is famously associated with riding the long-distance Shinkansen or Japanese bullet trains. Though they are normally just take-out food or even convenience store fare, Bento have that quintessential Japanese style of organization, variety, and practicality.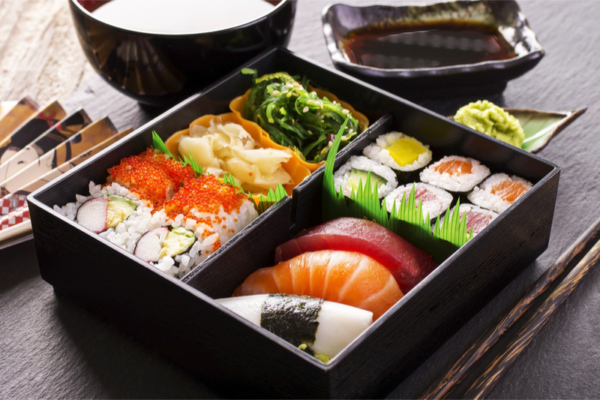 Bento will basically function as regular set meals in a sit-down dinner. Bento boxes can serve up an unlimited variety of food, though normal staples include rice for carbohydrates, vegetables, rolls and egg, and meat, such as pork Japanese dumplings, or fish like salmon.
The great thing about bento dishes is that they can provide impressive visual impact. There are ways to style the food so that they look more vibrant and more colorful.
Sushi platters are impressive centerpieces in buffet-style and large table parties. From spicy tuna sushi rolls to California Maki, there's a flavor of sushi roll that can satisfy your guests' appetite.
Sushi is great to fill up your guests' stomachs and, at the same time, impress them with a variety of cool flavors and tastes. You can have everything from lighter fillings like cucumber and salmon, to more exotic sushi rolls like shark and tempera.
You can also integrate sushi into your event. Caterers and cooks can prepare the sushi in front of your guests, which can turn eating into a fun and thoughtful experience.
Ramen, Tempura, Katsu, and Yakitori
Is there an end to the best dishes you can serve up for a Japanese-themed party? If you want to deviate from the classic Bento and sushi roll experiences, you can serve noodle-soup dishes like Ramen, Udon, and Yakisoba.
Tempura can be added to the menu for texture and taste. Katsu and other cutlet dishes can be the center of a sit-down dinner. If you are hosting a casual event, Japanese skewered meat like Yakitori can provide that perfect snack.
Don't forget about Japanese sweets! Matcha (green tea) flavored mocha bites are a must for your Japanese-themed party to be an all-around culinary success. Contact your caterer for more ideas today!
Ryan Davis is the owner of Argyle Catering the best company for catering Jefferson City, MOhas to offer.