Amazing Croatian Cities For Cultural Travelers
As one of the most famous Mediterranean destinations for nature lovers to enjoy the sun and crystal clear sea, it may be a less known fact that Croatia has an incredible cultural and historical heritage as well. This small and attractive country offers a wide array of cultural sites that showcase its ancient history, visual arts and historical architecture, along with a number of festivities and traditions. Taking into consideration the unusual shape and geographical position of the country, it is no wonder Croatia has for long been a crossroad between the Roman and Byzantine Empire. While at the same time nurturing its European roots and Mediterranean lifestyle. With a long list of cities rich in culture, we bring you an overview of three most amazing cities of Croatia that any cultural traveler and history buff should not miss.
Pula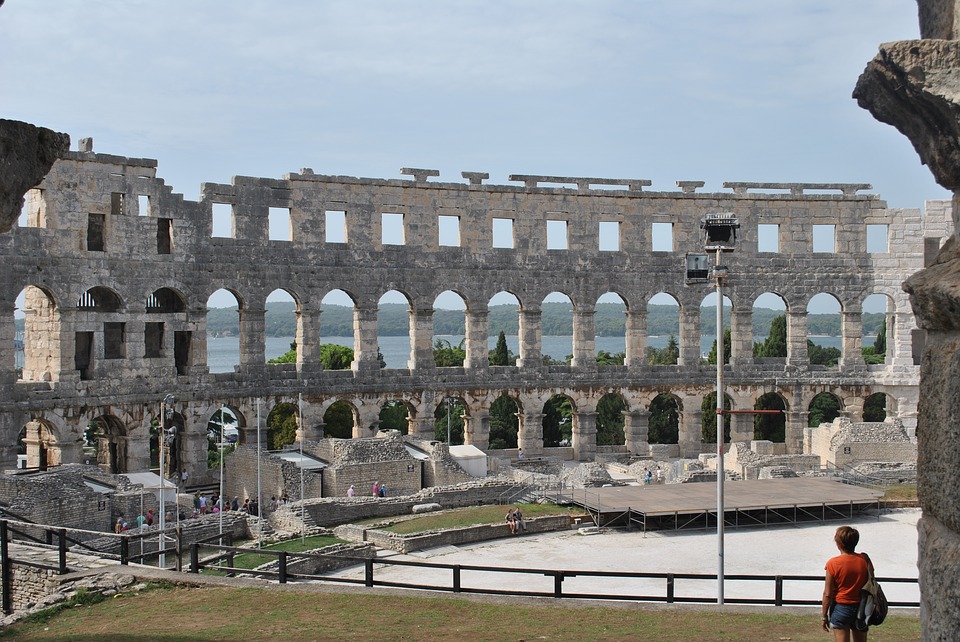 The city of Pula, situated in the south of the Istrian Penninsula, is best known for its Roman heritage. The world renowned Roman Amphitheater is situated in the center of the city, and still serves as a prestige arena for many concerts and manifestations. Incredibly well preserved and open for visitors, this impressive monument is one of the most important historical objects in these parts of Europe, and as such should not to be missed. The main square in Pula served as a Roman Forum, and to this day holds the Temple of Augustus along with the Communal Palace. Take a stroll around the old city center and visit the Gate of Hercules and the Small Roman Theater known for its interesting shape and architectural style. There are also numerous churches scattered throughout the city, with Chapel of St. Maria Formosa and the Church of St. Francis being the most beautiful and decorated with intricate details.
Rijeka
As the biggest and most prominent port in Croatia, Rijeka tends to be overlooked by travelers. However, this easily accessible city offers ancient streets, historical monuments and numerous museums and art galleries. An excellent place to start would be the Trsat Castle along with the Church of Our Lady of Trsat situated on a hill overlooking the entire city. This 13th century fort offers an incredible view of the city and shore. Taking a stroll through the old city center will surely transport you to a different time since there are situated some of the most interesting cultural monuments. Some of them are Governor's Palace – built in 1892, St. Vitus Cathedral – the only Baroque rotunda in Croatia and the Capuching Church of Our Lady of Lourdes – famous for incredibly detailed ornaments. Rijeka is also a perfect choice for art lovers as it has a large number of museums and galleries, including the famous Museum of Modern and Contemporary Art, which is the home to some of the best contemporary exhibitions in the country. Interesting thing to mention is that Rijeka has been honored with title of European Capital Of Culture for the year 2020.
Dubrovnik
Situated in Dalmatian region, this medieval city is a jewel of history. Still completely walled, its fortifications are spread along the entire border of the old town, along with 16 preserved watchtowers. This architectural masterpiece made the city of Dubrovnik a part of the UNESCO's World Cultural Heritage list. The Rector's Palace in the old town, Sponza Palace as one of the most beautiful palaces of the Mediterranean, the Cathedral of Dubrovnik are only a couple of remnants of the rich culture heritage of this beautiful city. Waiting to be explored while strolling through old narrow streets and enjoying small antique shops and incredible local cuisine. Nearby island Lokrum, reachable by Croatian catamaran charter, is a home to Benedictine monastery dating way back to 12th century. These days monastery serves as a cultural hub of the island and a major cultural and architectural attraction.
If you find yourself on the tour of the Croatian coast on the Adriatic Sea, these three cities will surely satisfy your hunger for learning more about history of old Europe. Of course, cultural heritage of Croatia is not limited to just these three cities, and if you allow yourself luxury of exploration, you will come across many more wonderful cities.