Winter Golf Guide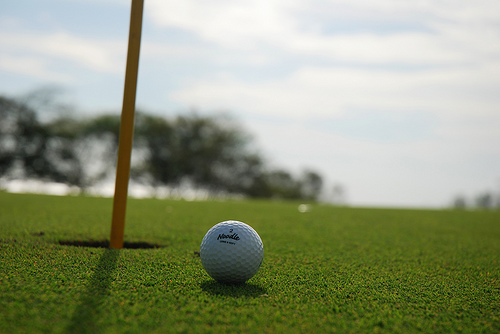 Winter is no time to put away the golf clubs, especially if you're traveling. Some of the best courses in the country can be found on the west coast. They're accessible, challenging and surrounded by some of the best scenery in the world.
Here are a few places where travelers can find quality courses any time of year.
SAN DIEGO
San Diego is a great place to be any time of year. A trio of area golf courses gives players an added incentive to visit one of California's most beautiful cities.
Torrey Pines
Torrey Pines is one of the preeminent public golf courses in the country. Its picturesque landscape has been the backdrop for some of the PGA's most memorable Majors. The 7,643-yard masterpiece is a must-play for any serious golfer visiting the San Diego area.
Barona Creek
Golfers can opt for five different tee locations at Barona Creek, one of the top-rated courses in the state. Forgiving fairways are spread across 7,111 yards. A good tee shot sets players up for Barona Creek's slippery greens that require a confidant touch.
The Crossings at Carlsbad
The Crossings gets its name from the five bridges that help golfers navigate the 6,835-yard course. It blends in seamlessly with its Northern San Diego County surroundings, with beautiful visions of the Pacific Ocean in the background.
LAS VEGAS
There's more to do in Las Vegas than visit a casino or take in a show. Golfers can get away from the slot machines by visiting Paiute Golf Resort and Shadow Creek.
Paiute Golf Resort
Paiute Golf Resort has something for every kind of golfer with three different Pete Dye designed courses to choose from.
Measuring a massive 7,604 yards, Wolf is the longest golf course in Nevada. Paiute's signature course gives golfers all they can handle, highlighted by the intimidating island green on the 182-yard 15th hole.
Snow Mountain is a 7,164-yard par-3 course that features water hazards and bunkers sprinkled throughout a serene desert layout
Sun Mountain checks in a 7,112 yards, but the distance is highlighted by drastic slope changes, not to mention an spectacular mountain view.
Shadow Creek
Shadow Creek is a landscaper's dream come true. The 7,239-yard course features waterfalls, winding creeks and gardens blending in with a mountain-view backdrop. Shadow Creek is challenging but fair, and well worth the effort.
PHOENIX
California used to be the final word in west coast golfing, but Arizona's Phoenix/Scottsdale area has done a lot to join the quest to draw vacationing golfers. The Phoenix area boasts 200 golf courses and winter season discounts. There are also plenty of rental car options available. Golfers can get a car on site or book ahead of time.
Troon North
Scottsdale's Troon North gives golfers two scenic courses to choose from: Monument and Pinnacle. Both are surrounded by a breathtaking desert landscape and are rated among the best public golfing facilities in Arizona.
The 7,070-yard Monument course gets its name from the huge, naturally carved bolder that sits in the fairway of the par-5, 564-yard third hole. Pinnacle features spacious greens and fairways over 7,025 yards to accommodate golfers of all levels.
Southern Dunes
Located 25 miles south of Phoenix, Southern Dunes is a 7,243-yard course universally praised for its layout. Undulating hills and multiple bunkers offer up reminders of a classic links-style course.
Gold Canyon
Gold Canyon Golf Resort includes two public courses to choose from along with a spa and salon to help players unwind.
The Dinosaur Mountain course has been honored by Sports Illustrated as one of its most underrated courses in the country. The 6,008-yard layout challenges golfers with multiple elevation changes. Gold Canyon's Sidewinder course measures 6,078 yards and blends perfectly with its desert surroundings.
Featured images:
License: Creative Commons
image source
Brandon's a travel writer working with Advantage