What To Bring For Your First Rafting Trip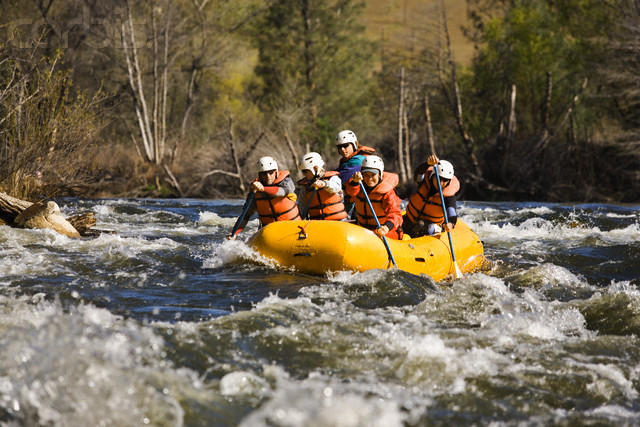 What to Bring for Your First Rafting Trip
You thumb through a small pile of travel pamphlets and brochures you have accumulated over the past few months. You've been looking forward to a small getaway for quite some time now. It's a chance to break away from the banality of work. You glance at the glossy images of white sand beaches and breezy bungalows where happy vacationers are being served delicious combinations of alcohol and tropical fruits.
Although the idea of lounging on a beach is appealing, you can't shake the feeling that you want something a little different from this vacation, something new and adventurous. You want to feel alive. Those pristine beaches may not be able to provide that kind of an experience, but a whitewater rafting trip certainly can!
Of course, it's not as simple as just signing up, jumping in a waiting raft, and barreling down the river. Rafting trips are truly a unique exploration of the outdoors and therefore require careful preparation. Let's discuss what you should pack for your very first rafting trip.
Comfort and function are crucial elements in your choice of clothing. You should keep in mind that temperature and weather may change drastically at any point during your rafting trip. Layers are a good idea because they allow you to keep warm in cold weather, shedding layers as the weather warms up.
Also, remember that you are going to spend most of your days being splashed with cold water so a waterproof shell can help keep you dry. Two piece swimsuits are a great idea for women because they dry quickly and also allow you to discretely drop your pants when nature calls. Your packing list should include:
We provide when needed
Rain jacket/splash jacket
Rain pants/splash pants                   Cool weather only
Polypropylene long underwear           Cool weather only
It's always important to look out for your feet and this is especially true during a rafting trip. Velcro sandals and flip flops are discouraged because they are likely to fall off of your feet in the event that you are unexpectedly thrown into the river. Being barefoot with no good traction in a fast-flowing river could be a dire situation; sandals that buckle, or tennis shoes are a much safer and more practical option.
Also, if your rafting trip involves hiking, you are going to want a sturdy pair of shoes that will provide arch and ankle support. You can still bring along your beloved flip-flops for wearing around the campsite, but make sure you have something more substantial for the actual rafting.
Hats, bandanas, and visors can be great tools for protecting your face and neck from the brutality of the sun. Baseball caps can be effective, but it's even better if you can bring a hat that shelters the back of your neck and the tops of your ears. It's advisable to bring a spare in case one is lost to the rapids.
Other items that may be helpful during your rafting trip include:
Sunblock (waterproof/sport variety)
Sunglasses (with eyeglass straps)
Ziplock bags for keeping items dry
There are also several items that your rafting service will likely provide for you including a personal flotation device (lifejacket), wetsuit, helmet, and neoprene booties. You should always contact the service provider ahead of time to clarify which items they provide. If you pack the appropriate materials, you will be able to spend your time rafting on the american river marveling at the natural beauty surrounding you rather than shivering miserably in a corner of the raft.
Featured images:
License: Royalty Free or iStock
source: http://www.corbisimages.com/stock-photo/royalty-free/42-17069179/whitewater-rafters-on-river?popup=1
Written by Michelle Powell. Michelle is a tour guide and blogger for Mariah Wilderness Expeditions.