5 Awe Inspiring Ways Technology Has Met The Needs Of The Elderly and Disabled
In the world of technology, for almost every problem there is a solution. For elderly and disabled people this is no exception. Over this blog we will look at gadgets that range from the simple to the far out that can be used to help elderly and disabled people with their issues, from Stairlifts or emergency beacons, to a robot that acts as a personal assistant.
Vacuum Robot
[VIDEO: http://youtu.be/rqWsPYzv0a8]
(Source: samsungalps)
http://www.youtube.com/watch?v=rqWsPYzv0a8
Even 20 years ago, people imagined life in the 2000's to be one where we enjoyed life while robots did all the dirty work for us. That age has yet to come… well, almost! You can buy a robot to vacuum your home. You press a button and it just gets on with it. This saves the issue of having to push a heavy vacuum cleaner around the home for someone with mobility issues and enables them to get on with their lives in the knowledge that their weekly chore will be done for them. The robot can even do quick tasks, say if a bottle of pills have dropped on the floor, saving the person from having to perhaps bend down and sweep them up.
Pill Taking Aids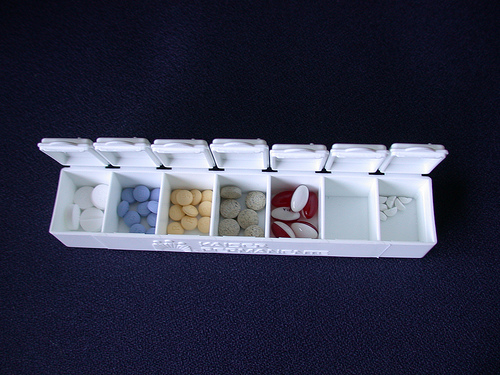 (Source: Dvortygirl)
Someone estimated recently, that by the time you reach your 70's you have to take on average 12 pills a day. Most admissions to nursing homes come after someone has gotten confused about which pills to take when. Remembering to take them would be difficult for anyone! There are a number of systems to remind people that it is time to take which pill when. This could be a pill box with flashing lights or more sophisticated services such as a phone call every time a pill is due.
The Stairlift
[VIDEO: http://youtu.be/hGRAP5nTYwg]
(Source: acornstairlifts)

Getting around is difficult for people with issues such as arthritis. If they live in a traditional two storey home, getting to the bedroom may as well be climbing Everest at times! Stairlifts are a solution to this. They are fitted to the staircase and the person can sit in a chair and press a button to be wafted upstairs to do what they need with minimum fuss. Curved staircases are no longer an issue either. So if you have mobility problems, can live in an upstairs apartment and still get into your home with ease.
Personal Emergency Response System
[VIDEO: http://youtu.be/wlt7t8XnNGc]
(Source: ActiveMedical)

People worry that their elderly parents may have a fall. Many people have now been saved from serious injury and worse by wearing a personal emergency response system (PERS). For a small monthly fee they can wear a pendant, which has a button to call for help if they fall and cannot get up. The price is a small amount to pay knowing that your elderly relative won't end up lying on the floor for many hours, unable to stand up because they have a broken arm.
Personal Assistant Robot
[VIDEO: http://youtu.be/UKVkQYgXaZs]
(Source: SmartHomesNL)

From the sublime to the bizarre, two robots have been developed to help elderly people with their daily tasks. Hector is a personal assistant robot that does everything from reminding the person to take their pills, to contacting emergency services if they have had a fall. If this sounds impossible, Forbes.com say that the robot has been developed with commercial sale in mind and may well be available in the next two years.
Driverless Car
[VIDEO: http://youtu.be/DBZFW1BYKKY]
(Source: monodzukurichannel)

Not only will your elderly relative have a robot personal assistant helping them with daily chores, but another may chauffeur them to their daily appointments! Hitachi have developed an electric buggy that does all the driving for the passenger, navigating and avoiding obstacles as it goes. If things get out of control, don't worry – there is a manual override system so if the passenger feels the need to avoid something the cart hasn't "seen" they can stop it from hitting the obstacle or person.
Acornstairlifts.co.uk brings you this guest post. Formed in 1992, we pride ourselves on providing you with all the latest stairlifts information using our years of manufacturing, design and installation knowledge and expertise.