Thriller of a Match in College Basketball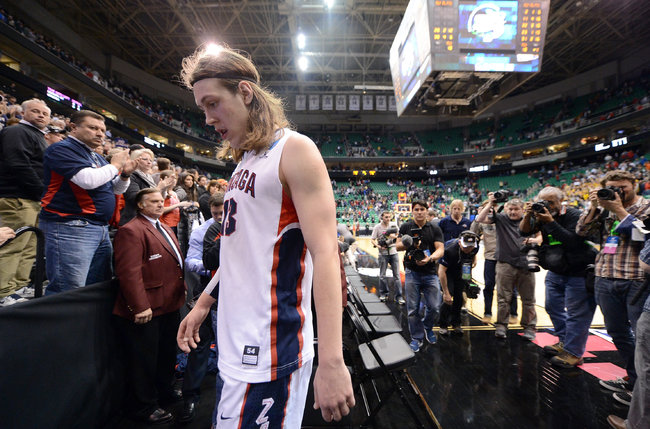 They shuffled down the corridor at EnergySolutions Arena, first the Gonzaga cheerleaders, then Coach Mark Few and three of his players, then the band. No one said a word. It resembled a funeral procession.
Minutes earlier, top-ranked Gonzaga's season had expired, and against a team from Wichita State that is nicknamed, of all the possible nicknames in college sports, the Shockers.
Shock, they did.
The scoreboard read 76-70 in favor of those Shockers when the game ended, when Wichita State's spirit squad spilled onto the floor and its odd, pencil-looking mascot danced around in jubilation. To those who lived Gonzaga basketball, who built the streak of 15 N.C.A.A. tournament appearances, it probably looked a bit familiar.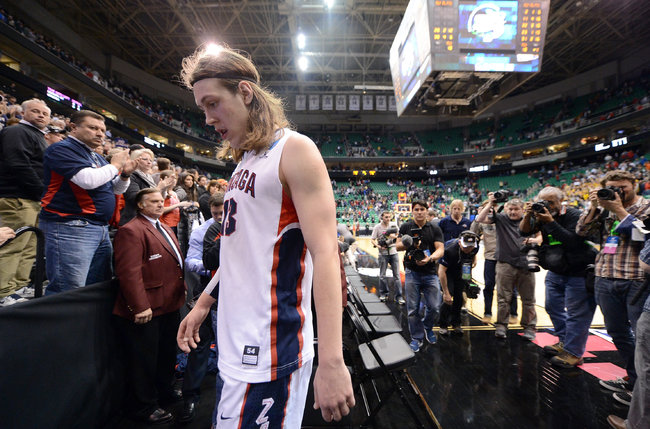 That was Gonzaga basketball, those Shockers, at least until Gonzaga basketball grew up. With age has come expectations, and with elevated expectations has come disappointment, especially with a fourth straight season that ended before the tournament's second week.
Afterward, in the silent Gonzaga locker room, players slumped against their lockers, held their heads in their hands, tried to explain what they did not yet understand. Guard Kevin Pangos, who sparked a Gonzaga rally and finished with 19 points, sat at his locker, shirtless, his eyes vacant. It took him a second to respond to the first question. He did so with a "What?"
A reporter asked Pangos about all the criticism lobbed Gonzaga's way, about the naysayers who said the Zags did not deserve a No. 1 seed, about the skepticism that grew when the Zags nearly fell to 16th-seeded Southern in their first contest. That only reinforced the notion they were vulnerable, even, in an odd twist for an original tournament darling, overrated.
"We definitely deserved it," Pangos said, and by "it," he meant the seed, not the doubts. "We lost two games all year. People can say whatever they want about strength of schedule, but we won those games."
Thus continued the upheaval in the West Region, where the top seed (Gonzaga), third seed (New Mexico), fourth seed (Kansas State), fifth seed (Wisconsin) and seventh seed (Notre Dame) fell in the first week. Only Arizona, seeded sixth, which won earlier Saturday, and Ohio State, scheduled to play Sunday, had survived from the top eight.
Into the void stepped the Shockers, who had four scorers register in double figures, who made half of their 28 3-pointers, who built a lead and lost it, regained it and lost it again, only to reclaim it in the final minutes and hold on for a victory as significant as any in their recent history.
"This has been an incredible year for college basketball, with the parity, the great excitement, the wonderful plays," Wichita State Coach Gregg Marshall. "We did beat the No. 1 team in the country, the No. 1 team in our region, and that's just a wonderful feeling."
It was also, simply, Wichita State's best Gonzaga impersonation.
"I feel like they didn't miss," Pangos said.
Early in the second half, Gonzaga's star post player, Kelly Olynyk, lost his right shoe as he made a driving layup. He did not try to reclaim the shoe as he trotted back down court. He played the next defensive possession without the shoe, in fact.
This scene, brief as it was, typified how Gonzaga played through its first two contests in this tournament. The Zags, uneven at times, shaky at others, inartistic throughout, took the dirt road here — and on Saturday night, it caught up with them. That guard Gary Bell Jr., the Zags' best perimeter defender, missed most of the second half with a foot injury did not help.
The final minutes unfolded in chaotic fashion, the lead swinging back and forth. Behind, 64-63, Gonzaga turned it over on an inbounds pass. Wichita State's Ron Baker made a 3-pointer from the right corner. Teammate Fred VanVleet followed that with another triple on the Shockers' next possession, good for a 70-65 advantage that would hold up.