Visiting London? Here Are Our Top Three Visitor Attractions!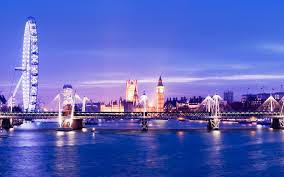 Whether you're going to London for a long weekend or have opted to spend a little longer in our nations Capitol, there's absolutely no denying that you'll want to so more things than you have time for or have the budget for! London is ram packed with a whole host of fantastic visitor attractions for the whole family and it can often be tough deciding which to visit and which you have to give a miss this time! We thought we would bring you our three favourite London visitor attractions and, as such, have been lucky to team up with leading family resource, My Family Club (who have a great list of fantastic attraction deals here) to help put this together!
1) The London Eye
Anyone visiting London simply cannot afford to miss a ride on the London Eye! Towering over London's skyline, the London eye is the must-visit attraction for anyone wanting an almost birds-eye view over the city but also anyone who wants a fantastic time! It's one of the best family attractions in London and it's something everyone should do at least once! Very few attractions compare to it and we just know you'll love it!
2) London Zoo
Located in Regents Park, London Zoo is another must-visit attraction for families in London! As far as we are concerned, it's one of the UKs best zoos and if you want to see an outstanding selection of thousands of exotic animals, you need to pay it a visit! You can always find discount vouchers to make it a little more affordable but in terms of a full day out for the whole family, you can't get much better than this and it's worth every penny as far as we are concerned! Animal lover or not, we know you'll enjoy your day here above almost anything else!
3) Camden
Whilst maybe not topically classes as a visitor attraction, anyone visiting London for the first time needs to head to Camden for an afternoon! It's a place like nowhere else and you'll see everyone from Punks to fashion designers in this area of the city and it's full of market stalls offering everything from the latest in fashion to vintage clothing and gifts, as well, of course, as a whole host of international food stalls! Just a few tube stops up from the centre of London, it's a must visit place and apart from the things you won't be able to help yourself buying, it's a totally free afternoon out!
So there you go; our three top London attractions which you absolutely must pay a visit to whilst you're in the city! Of course there's literally hundreds more so why not let us know yours?