Go Green With Your Christmas Decorations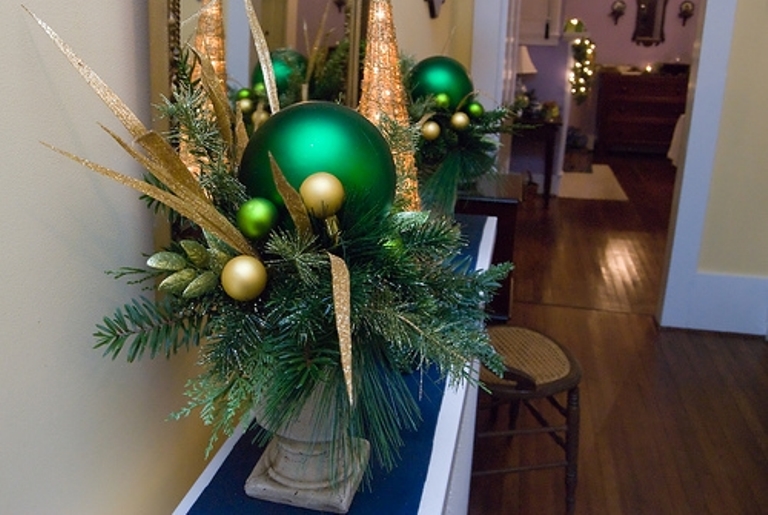 Don't you just love this time of the year? The dip in the temperature and the nip in the air are usually accompanied by a spring in the step. It's that time when people, after having worked hard through the year, begin to relax and get in a celebratory mood.
For me, it usually starts with Halloween. Dressing up in spooky costumes, decorating the house in eerie props, stocking up on candies to hand out to trick-or-treating kids, carving pumpkin lanterns – what's not to love about Halloween?
Then comes Thanksgiving – a time to give thanks for everything you've been blessed with. Spending time with your family, sitting down for the delectable Thanksgiving feast, watching the parade, playing board games – every tradition associated with Thanksgiving rings with happiness.
But the father of all festivals and my personal favorite is Christmas. The festivities reach a whole new level around Christmas. Some start preparing for the festival days in advance and we're among such families.
Only this time, we have decided to do things a little differently. We have decided to celebrate a greener Christmas this year. We want to make sure that in our enthusiasm to make our Christmas celebrations bigger and better, we don't put undue pressure on our environment.
And I couldn't be happier for it.
Green Christmas – What's that?

If you're wondering what green Christmas is all about? It simply means celebrating the occasion in a manner that respects the environment, conserves resources, and reduces waste. Believe me when I say this, there are several easy ways to achieve these objectives without taking away anything from the festivities.
It starts with buying the most eco-friendly Christmas tree you can afford and composting it in your yard after the festival.
Exchanging gifts is an integral part of Christmas celebrations, but don't wait until the last moment you shop for them. If you're in a hurry to finish all your shopping, you're not likely to have the time to spare much thought on them. Start shopping early, so you have time to buy thoughtful gifts and wrap them creatively in eco-friendly packages rather than mass produced wrapping paper.
Send greeting cards made from recycled paper and as far as possible, use decorative lights sparingly.  Here are some more ideas on how to make your Christmas greener.
What are we doing differently?

Like I mentioned earlier in the post, we have decided to do things a little differently this year for Christmas. In addition to following the above environment-friendly practices, we've decided to do away with store-bought Christmas decorations. Completely!
I know, it sounds blasphemous even to my ears. But the truth is that saying no to store-bought decorations doesn't mean we're not going to have any. Instead, we're going to make our own little decorations from recycled material.
We usually sell all our metal scrap to a private recycler nearby my place, SIMS Metal Management for some quick cash, but this year we stashed it to see how we can use it to make decorations. Once we are through with our projects, we'll sell off the unused scrap at SIMS.
Coming back to the decorations, websites like Pinterest usually have some interesting ideas. Some ideas playing out in my head include:
Snowflakes made from paper and twigs
Strings of popcorn and candy
Cookies cut in Christmas-y shapes
Ornaments made from cut up CDs
Star-shaped cut-outs from soda cans
Light bulbs covered in shiny glitter
Snowman ornaments from bottle caps
Reindeer made from pieces of puzzle
Candy cane cut-out from cardboard
Googly-eyed reindeers from coffee tins
I am sure as we move along; we'll find tons of creative ways to transform junk into lovely Christmas ornaments that are pleasing to the eye and easy on the pocket. I can't wait to get started, so who is with me for a green Christmas?