Looking at the plethora of expensive pieces of wooden furniture and home decor items which are on the market at the moment it would be easy to think that you need to spend a fortune to get the designer look for your home.
In fact this simply isn't true; there are multiple ways in which the humble wooden pallet may be reused and reconstructed to create stunning traditional or contemporary pieces for your home and garden.
Wooden pallets are freely available from many sources and can often be acquired for no charge at all. Factories, garden centres, builders yards and larger stores often have lots of wooden pallets simply lying around and if you ask, they will be happy to give you some for free.
Pallets are made from soft timber which makes them easy to work with and as long as you ensure that you wear eye protection and gloves, they are easy to take apart when necessary.
Some of the best ideas in terms of pallet up-cycling are the simplest such as low coffee tables and garden planters. A fabulous low coffee table such as the one pictured is easy to make and has the addition of simple castors to make it even more useful.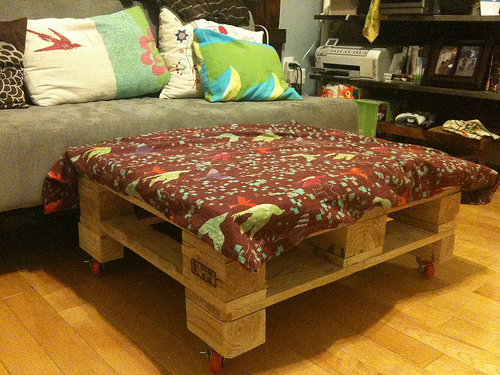 Because this particular coffee  table has not been stained or painted, it has been adorned with a bright tablecloth and is an effective piece of furniture which would work in any room.
Another wonderful idea is to create a pallet garden by upending a pallet, adding some weed mat to the inside of the slats and creating little planters in which a variety of flowers or herbs may be planted.
This is an attractive and rustic look which is a lovely addition to a deck or patio area and is unusual enough to really catch the eye.
Some good plant choices for a pallet garden include trailing lobelia, petunias, dwarf sweet peas,nasturtiums and surfina. All of these will provide colour and beauty for an entire season. Water daily and ensure that they have good drainage.
Simple planters are also easy to make and look wonderful in groups of three or five on decks and patios. The same can be said of deck and patio seating which has been made from pallets, add a few bright cushions and you have a beautiful and unusual seating area for next to nothing.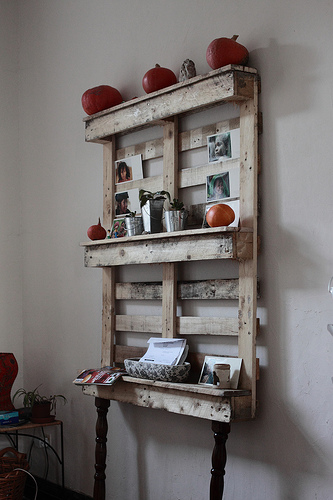 If you are looking at adding some rusticity to your home, you can consider making shelving or even a small dresser from reclaimed pallets. It is possible to achieve a good finish on pallet wood by dint of vigorous sanding and an application of wax or varnish afterwards.
The rustic dresser pictured has had some barley twist legs added to create a more quirky look and the overall design, whilst simple is also very stylish.
In order to create items which are well proportioned, it may be necessary to cut and alter pieces of timber from a number of pallets; the best way to achieve a uniform look is to use timber from one pallet but this is not always possible.
Look around high end furniture stores for inspiration; take note of the construction of pieces which appeal to you and try to utilize the same techniques when it comes to building your furniture.
You will be amazed by what you can make from pallets and at what little cost…there is an enormous amount of free timber available and usually right on your doorstep!
Once you have gained some confidence in building pallet furniture, you may like to try some more complex items such as a bed or even a wardrobe.
There is no limit to what may be achieved in terms of stylish pallet furniture and art; experiment and don't be afraid to make a mistake!
The beauty of the art of upcycling pallets is that the raw materials are generally free and you can afford to make a few mistakes.
Tools are minimal and the most you will need to create the things mentioned here are saw, drill, sander, nails and staple gun.