Unusual Window Dressings
Windows are often the focal point to a room, in this day and age where coal fires are not so popular, windows are a main feature in any room and there are a number of tips and tricks to help you make the most of yours.
Ready made curtains are the answer to most people's problems, simply hang them from a rail on tabs or with hooks and away you go! But what if you would like something with more impact? Something a little different…dare we say dramatic?
There are many low cost options for giving your windows a little bit of oomph and you don't need to be a skilled seamstress or tailor to achieve them either!
Some of the best and most effective options involve no sewing at all!
If you have a large picture window in your home then the chances are, you want to draw attention to it but still allow the light to pass into the room.
A great option in this case is to simply drape some filmy fabric over the rail and let it hang. Sounds too simple right? Wrong!  A simple but romantic effect can be achieved by some experimentation with silks or rayon and if you can get hold of them, sari's.
A great option for fans of the vintage look  is a DIY cafe curtain. If you have a smaller window…in your kitchen for example, it is to create an easy cafe curtain effect. Use curtain wire or an extendable cafe curtain rod and fix into place halfway or slightly less along the window.
Then simply drape a vintage tablecloth or even an apron over the rod. The fabrics used in vintage tablecloths and aprons are often beautiful and the light shines thorough them in a soft and lovely way.
Another unusual and striking design for a bedroom window is silk scarves tied to the rail, this creates a colourful and dramatic look; you can sweep them back and behind hooks during the day.
For teenagers, a funky look with beaded door curtains is a good idea. Buy two inexpensive beaded curtains and trim them to length. Fix them to the curtain rail or to the underside of the lintel with hooks.
Again, these may be swept behind hooks during the day and if you feel you would like more of an option with regards to blacking out the daylight, simply affix a blackout blind in place before you add the beaded curtain.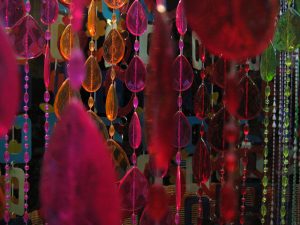 When deciding on window dressings it is important to think about the practicalities of the design; there is no use having sheer curtains in a bathroom for instance! In bedrooms, it is very important that you have the capacity to shut out the light entirely, especially in the summer. This is where simple blackout blinds are useful  they can be rolled up and out of sight during the day and then your fancy dressings can take precedence.
Keep your mind open and look out for textures and colours that will glow when they light shines through them, you don't need to stick to curtains when it comes to window dressings, any length of fabric that appeals can be used as a window covering and often, things which were not designed for windows are more appealing!