Things To Do In Alaska During The Winter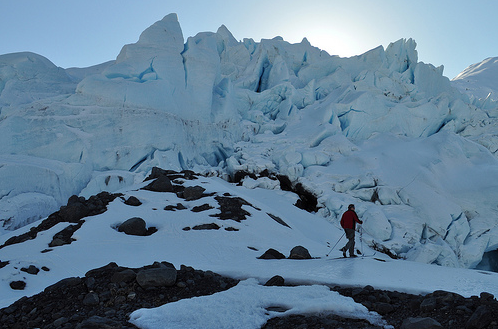 Obviously if you're going to travel this far north in America then you're going to encounter some fairly rough and tough conditions however, aside from the freezing temperatures you'll still find there's plenty of action in Alaska to get you all hot and happy.
As the largest state in the USA and featuring some of the country's most impressive areas of wilderness, Alaska is an absolutely heavenly location for anyone looking for things to do outdoors during the winter with ski resorts, cross-country trails and star-filled skies promising some amazing experiences.
Below are just a few of the reasons why Alaska in the winter is definitely not just about the cold climes and if you can wrap up warm and get out there with a positive attitude then you'll be more than rewarded with some warm and wonderful memories.
Snowboard Action!
Close to Anchorage and boasting one of America's most awesome air time options, Alyeska snowboard and ski resort is exactly what you're looking for if you're into your pipes and rails. There's a whole scope of terrain to take in on the mountains under half an hour's drive from the city and from beginner carve ups to awesome back woods and cross-country, check out the Chugach and Alyseka mountains if you're into your all action alpine and crazy terrain parks.
Star Gazing
Even in Anchorage you're going to see plenty of stars shining brightly across the dark velvet duvet of an Alaska night sky however, travel a little further out of the city and you'll be treated to a nocturnal spectacle to truly savour. Whether you've got ambitions to capture the stars or even the northern lights by telescope, camera lens or purely by being there, make sure you visit one of Alaska's national parks, such as Denali, to definitely find all of your dreams coming true.
Glacier Trekking
No matter where you tread within Alaska over the winter months, taking care to wear the right equipment is always going to ensure you're able to explore with far greater ability. This couldn't be a clearer mantra on the shimmering glaciers that inhabit some of the area's protected parks and from Mendenhall and Portage to Matanuska and Knick, following a guide on a trekking tour of some of Alaska's most majestic glaciers couldn't be a more exhilarating or intense experience.
Tony Knowles Coastal Trail
As this is one of the best known trails in Anchorage you can expect to find that you're in good local company if you're intending to take on the 11 mile stretch of coastal road and even during the winter months you'll find plenty of friendly folk to bid 'good day' to. Cross-country skiing, snowshoe shuffling and even dog-pulled skiing (skijoring) are all great fun and will take you from the city and out to Kincaid Park with some fabulous views of the Cook Inlet along the way.
Mount Roberts Tram Way
Lying just to the south of Alaska's capital city, Juneau, the Mt Roberts Tramway is an excellent means of ascending the aforementioned Mount Roberts with the minimum of effort. This is cited as one of the most vertical of tram systems on the planet and as such the 6 minute run will take you up to an elevation of almost 4000ft whereupon you'll be presented with a whole host of things to do as well as some darn fine views of downtown Juneau.
All about the Hockey
Anyone who's ever ventured north of the border with America or come as far as its furthest reaches will know the importance of the game of ice hockey. If you're new to both the sport and this is one of your first ever holidays to Alaska then watching a live game is a marvellous opportunity to find out more as well as getting up close and personal with the locals. The Sullivan Arena in Anchorage is one such venue and checking out either the Aces or the Seawolves is going to be one to remember.