The Top 4 Worldwide Hotels With Hot Tubs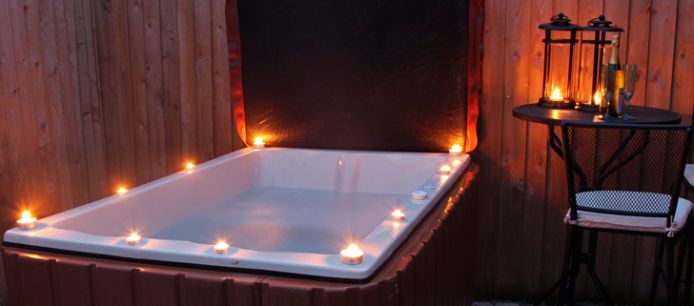 Going on holiday can be a costly business so it's no good just taking a chance and booking the first thing you come across. Far better to do a bit of research first and see what other people have experienced before you commit your hard earned money. Nowadays many people want much more from a holiday than they did in the past. They want to experience something they don't get at home so will often go for a hotel that can offer a whole range of facilities and activities. Luxuries such as hot tubs and spas (especially the likes of a Vita Spa tub), swimming pools and Jacuzzis have become the thing that people want most from a holiday, so to save you the hassle, here are a few hotels from around the world that can offer you the luxury you want.
For the ultimate dream holiday (if you don't want to sit on a beach all day) how about a trip to New York staying at the Four Seasons Hotel just off Park Avenue. It is New York's tallest 5 star hotel and if you stay in one of the upper floors you will get a fabulous view over Central Park. Facilities are designed to make your stay one to remember and include a spar with various treatments, a hot tub and a sauna to help you relax after a day out sight seeing. In your room you'll get twice daily housekeeping with evening turn down service, your own refrigerated mini bar and safe along with cable TV, a CD clock radio and DVD player to entertain you.
If somewhere hot is more to your liking then why not pay a visit to the Jumeirah Beach Hotel in Dubai. Built in a striking wave-like design, it is a place where you can enjoy the luxuries throughout your stay. It has 617 luxury villas, suites and rooms and all enjoy a view of the Arabian Gulf. You'll get a choice of 16 restaurants, cafes and bars, 5 swimming pools, a private beach and a fitness centre to name a few of the facilities. After a day sampling the activities on offer such as water skiing, windsurfing or tennis then why not relax in a hot tub to help you unwind for the evening? This is one hotel you will not forget easily.
If you don't fancy travelling quite so far, then how about a trip to Prague?. It may not be somewhere you've considered before but if you choose the right hotel you won't be disappointed. A stay at the 5 star Mandarin Oriental Hotel may be just what you need. You'll be able to combine relaxation in the evening with sightseeing in the daytime for a bit of variety. The hotel has many facilities to make your stay memorable, including a luxury spa based in an old chapel with a variety of treatments on offer such as massages, hot tubs and steam showers. Rooms are a "blend of historic character and contemporary design" with views of either Prague Castle, the cobbled streets below or the hotels gardens whilst the restaurant offers a choice of either modern Czech or Asian cuisine.
If sea, sand and sun are what you are after combined with a luxury resort then the Trisara Resort on the island of Phuket may fit the bill. Set along side a private beach on the North Western coastline of the island it has 48 spacious villas and private residencies and just 15 minutes from the airport. Attention to detail is very important at this resort so you can be sure of receiving first class service throughout your stay. Facilities include private pools at many of the villas, 3 restaurants serving authentic Thai food and a spa with a choice of treatments.
Whichever you decide to book with, one thing is certain; you are guaranteed to have a holiday of a lifetime.