The Secret To Creating A Family Holiday They'll Never Forget.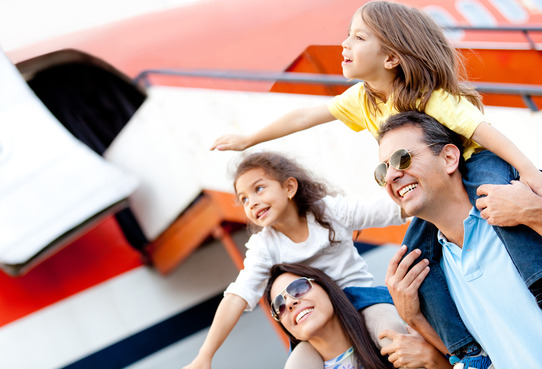 All holiday plans have the best intentions in mind. No ones sets out to have a bad holiday, but sometimes even the best-planned trips can go horribly wrong especially when you're travelling with kids. The Lonely Planet thinks the keys to a successful family holiday are "wildlife encounters, action and adventure, and plenty of fun in the sun." And yet for the first-time-family travellers, they offer some words of widsom to "look for destinations that will give you more bang for your buck, experience-wise.
A voyage to Sri Lanka, for instance, will please beach babies, adult architecture buffs, nature-loving children, and foodies of all ages."
It's all about finding a compromise that will satisfy both the parents and the children. If you tailor your trip too heavily towards one generation, you'll find yourself feeling that your money could have been better spent.
1) Go wild
Children love animals and the outdoors and so choosing a destination with a good deal of both to explore is always wise. Kids under 12 won't enjoy shopping expeditions or browsing in art galleries so be wary to chose a city that has more to offer than fine arts. You can soak up the culture of any country without setting one foot inside a museum. It's the experience of being somewhere new, hearing a new language and eating new foods that will be exciting for children. You don't want the added stress of having to keep them on their best behaviour the whole time, and so choosing places with the freedom to explore is ideal.
Lonely Planet suggest Belize as a top family destination with its "mysterious Maya ruins, lush jungle trails and deep, dark caves." But if that all sounds a bit too exciting for your brood, they also list a desert trek in Rajasthan, India, a visit to Santa in Lapland and Legoland in Denmark in their top three family destinations.
2) Independence day
If you're travelling with older kids, perhaps in their mid-teens, then you'll be familiar with their desperate need for independence. The USA is a great destination for families in this stage of life because while you might speak the same language, the cultural difference is striking and makes for an unforgettable experience.
To give them a sense of autonomy, why not suggest a ramble around one of the strips malls America is so famous for. Malls are safe and yet big enough to feel as if there's a bit of exploring to do. Will Thomas from Tuxedo Money Solutions suggests a prepaid travel card is ideal for teens on holiday, "a prepaid travel card is the perfect way to give your kids a taste of independence while abroad. Because you can control the limit, you won't have a nasty surprise at the end of the trip, and they can enjoy the freedom of charging everything to their card." A prepaid travel card is a great way to issue spending money for older children because you know if they lose it, you can just cancel it and it is much safer than cash.
3) Boredom busters
The journey to your destination can be a trial even for the most intrepid adults. The queues begin at the airport and don't end until you've arrived back home. Travel always involves long periods of waiting around and so if you've got kids – no matter old or young – it pays to have some tricks up your sleeve for when the line looks long.
For kids over 4, a hand-held gaming device can be a god-send. With a selection of games too choose from, this will make the journey go a lot smoother. For most kids old and young, a small colouring book or even a blank note book and a pencil case of crayons or pens will go a long way. Games on smart phones and videos on a tablet are also tech-savvy ways to beat boredom. Saving that an mp3 player and a set of headphones always works a treat. Load the device with their favourite songs and a few audio books for variety.
Leave the fiddly travel games at home unless you're planning of spending a lot of time in cars or hotels because these things can get lost easily. Lonely Planet also advises against "bringing along any toy of sentimental value, just in case it's mislaid en route."
4) Pack light
If you thought getting to Gatwick or Heathrow was hard enough, imagine doing it with not only extra baggage but extra people. When you're on the move with little ones, it's essential that you always have one hand for holding. Moving in and out of big crowds is dangerous with little kids and you don't want to be hampered in any way. Stick to backpacks and larger fewer items of luggage as opposed to many smaller ones.
Don't leave little kids with the responsibility of their own bag. As much as it might seem like a good idea, it just increases the chance of things getting lost and puts pressure on them and you to keep your eye on yet more bags. If you can travel with one big bag and a couple of backpacks, you'll have more hands free and you'll find it easier to keep track of not only your belongings but more importantly, your children.
5) Avoid hotels
You have might have noticed how travelling got awfully expensive after you started a family. Everything from flights, hotels and food costs at least twice as much. To take the sting out of accommodation costs, consider staying in apartments instead.
Leo Babuata from Zenhabits suggests, "rent an apartment, and try to find ones that are central, so you can walk to the best areas from your home base, and come back for naps if necessary." For parents of smaller children, this tip is crucial – naps are essential for the health of the whole family when on holidays.
Staying in apartments is not only cost effective, but it means you can eat meals in your room, preparing everything from toast and coffee to a full dinner from the comfort of your own kitchen. You can also do laundry and relax in front of the telly if everyone's had enough.
Featured images:
License: Royalty Free or iStock
source: http://photodune.net/
License: Royalty Free or iStock source: http://photodune.net/
License: Royalty Free or iStock source: http://photodune.net/
License: Royalty Free or iStock source: http://photodune.net/
Writing from London, Sarah Thompson loves to enable her readers with the best advice to navigate the fast-moving world of personal finance. With years of experience writing about lifestyle topics, Sarah knows how to get the best value for money on everything from fashion to travel.