Improve Your Bathroom With A Few Simple Changes
Upgrading your bathroom doesn't need to cost the earth. If you are happy with the suite then a few changes to the bathroom furniture can make you feel as though you have a brand new bathroom.
Making the most of the space and light you have is important too. Simple things such as matching taps between the sink and the bath, or a glass shower screen instead of a coloured shower curtain, can all provide a sense of cohesion and space in the room too.
If you are about to put your home on the market, the bathroom can be an important room to a prospective buyer. If the room "feels" light and airy and spacious then this will help give the potential buyer a good impression of your property, particularly if they see they won't need to spend any immediate money in this area.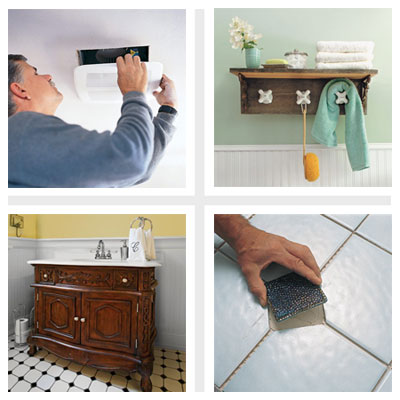 Mirrors
Mirrors can help make bathrooms appear larger and lighter too. If your vanity cupboard has lost its appeal but the frame itself is in good shape then why not replace the door with a mirrored one to help reflect light. Vanity cupboards are great places to store all your hair and makeup products and spare loo rolls so anyone going into the bathroom will only find a clean and uncluttered space. By replacing the door with a mirrored one you lose none of your storage space and appear to gain more space and light. If you are not sure what bathroom furniture would look good in your bathroom there are plenty of sites such as www.bellabathrooms.co.uk, where you can peruse the online catalogues to get some ideas.
Cupboards
If you don't yet have a bathroom cupboard and are not sure which one to buy then take some time to think about what you need to store in it. How many hair products do you need a home for, how many spare toilet rolls are there in the room normally, and how much makeup do you keep handy? The size of the cupboard will also depend on the number of people storing things in it, so try and make sure there is sufficient space for everybody. It's not just cupboards you need to think of in bathrooms though, simple things like loo roll holders with integrated storage can look great alongside the toilet and free up space in the bathroom cupboards. Shelves in the shower can store hair products, shower gels and soaps leaving more space in the cupboard for items you don't want your visitors to see.
Water Efficiency
New water efficient taps and water saving flushes can also help you save money on your water bill if you run on a meter. Both domestic and home users have reported savings on their annual water bill when the toilet flush has been changed to a dual one. More recently, showers are also getting in on the water saving option where the shower head aerates the water as it passes through so you are still getting completely soaked when taking a shower but the water consumption is up to a third less.