HTC 10 next upcoming flagship from HTC, the company will launch HTC One 10 on April 19., which is dubbed under the code name 'HTC Perfume', previously leaked image suggest that HTC 10 will feature aluminium design as HTC One A9, equipped with a neat shell, Now the latest leak comes from Twitter user @tanalibera. So one you can expect more metal from upcoming HTC 10. This device will be available in carbon gray, glacier silver (white face), glacier silver (black face), topaz gold.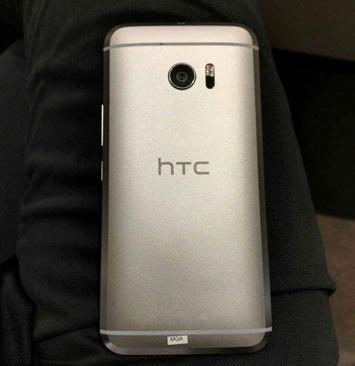 On the design side, home button placed on the front side of the device, Volume and power buttons placed at the right side, There is a gap between display and home button, Capacitive buttons to the mobile user, And on the design side, It will feature a big screen 5.2 inches AMOLED display with Quad HD screen resolution, HTC already used on One M9 device in 2015. Looks like, sleek design, It will be equipped with Snapdragon 820 CPU, Samsung Galaxy S7 Edge and LG G5 launched the devices with Snapdragon 820 processor.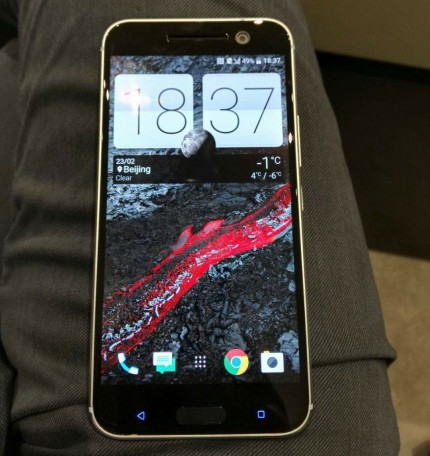 On the camera side, this device inherits the camera module  from HTC One M7, Also the bigger flash, Next Flagship From HTC comes with a slightly bigger flash compare to its previous versions, According to the previous rumors suggest that, this device will have a 12-megapixel rear camera with laser autofocus, Dual LED flash, But We have seen 16 MP, 23 MP and dual camera setup on LG G5, And for video chat, This smartphone will offer 5-megapixel UltraPixel secondary camera. It is one the great move to the UltraPixel. According to the CEO chair Cher Wang, neat flagship of the HTC company will have a very compelling camera experience.
According to the OnLeaks in a recent tweet, HTC 10 will be equipped with a fingerprint scanner, so you can lock your Android Apps with your fingerprint, very fast to unlock, M9+ and the A9, Both these smartphones equipped with fingerprint reader, Also from  same source leaks suggest that USB Type-C will be on board, It will be powered by the 3000mAh battery, this will give better battery life in upcoming smartphones. And the dimensions of this device 144.6 x 69.7 x 9.6mm. This device compatible with Wi-Fi 802.11 a/b/g/n/ac ,Bluetooth 4.1, 3G and 4G support. This smartphone will run on Android OS, v6.0.1 (Marshmallow).