How to Take Proper Care of Marble Floors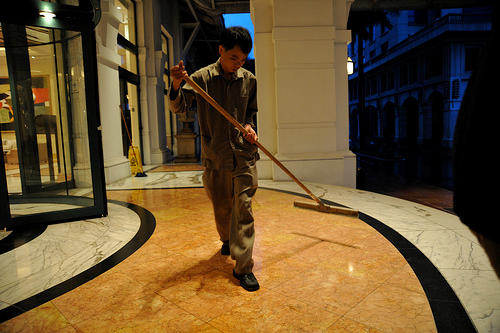 No matter most people think, stone is a delicate material that requires specific maintenance. If you care for it properly, you will be able to enjoy its beautiful look, but If you don't take care of it and neglect it, it will lose its charm.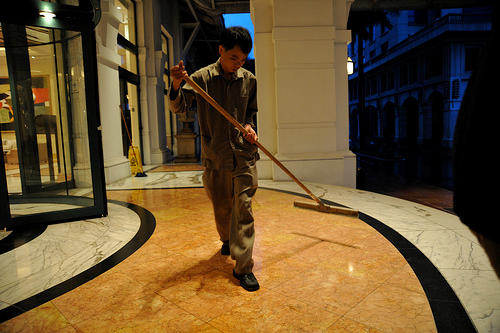 Marble and limestone are calcified stones. This is pretty much the reason why they react so strongly with acid-based products, such as lemon, vinegar, wine, etc. That is the reason why if you have such flooring at your home, you should take a proper care and maintain them regularly in a way that prolongs their lives. That is why "sealing" is a common maintenance techniques, used for marble flooring.
This sealing is a type of stone impregnation that protect the surface of the marble flooring against stains, corrosion and makes it "waterproof". There is a great variety of different products that are especially made for taking care of marble flooring.
http://farm3.staticflickr.com/2644/3746244476_3678f487f7.jpg
How often should you take care of your marble flooring?
You will notice when the stone needs some cleaning and sealing. Usually it will start absorbing water more easily, and this is particularly visible in the zoned of the floor located around the sink. That is the reason why you should clean and seal it regularly. Sealing granite flooring is recommended to be done once a year or two. However, when it comes to marble, travertine and limestone flooring, it is recommended to seal them at least twice a year.
How to use the impregnates in order to maintain your marble flooring?
The impregnates that are intended for marble floors are colourless, and they do not change the colour of the stone in any way. They also help you to make a slight protection film on the surface. Do not forget that you must clean the surface first and let it dry before you start applying the impregnate.
Most products do not require a special applying technique and you can do that yourself. Pour some of the product on a clean cotton towel and then apply it on the marble floor. It is a good idea to use a white cloth or towel in order to prevent the floor from colouring if there is a reaction between the cloth and the impregnate you are using. Be consistent, because impregnates are usually transparent and they are easily absorbed, so you can't be really sure where you have applied it already, if you don't pay attention.
There is no need or rubbing hard with the towel. It is absolutely sufficient if the cloth is well-soaked with the impregnate. It is also desirable not to treat the marble flooring surface for at least an hour after the impregnation. Of course, you should be also aware of the fact that besides the specialized sealing products, there are also products that are especially made for everyday care of stone and marble floors.
What cleaning products should you choose?
It is absolutely contraindicated to treat stone and marble flooring with ordinary abrasive or acid-based products, because they can cause some permanent and irreparable damage to the surface of the flooring. If you don't have any special cleaning product to take care of your marble floors, it is pretty much enough to wipe it up with a clean cotton cloth moistened with a soap-and-water solution.
Marble is more porous than granite, so you should be aware of the fact that you need to clean it as quickly as you can if you have spilled something on it. Remember, that if something such as red wine is spilled on the marble, there may be some stains left, especially if you leave the spilling there longer.
The first thing you need to do when it comes to cleaning some kind of spilling on your marble floor is to wipe the stain with some distilled water;
Then, soak a few napkins or some paper towels in some hydrogen peroxide, fold them and cover the stain with them;
Put a piece of nylon or household transparent foil on top in order to make it look like a pad and stick the edges of the foil with somes tape;
Leave it like this for no less than 24 hours, then remove the foil but keep the paper towels on the stain and let them dry for a day;
 Author Bio: July Minor is passionate about everything related to home improvement and DIY. She currently works as a manager at AfterThe Builders West London and she loves her job. In her spare time she loves to take long walks.