Hot Summer Looks – New Trends For The New Season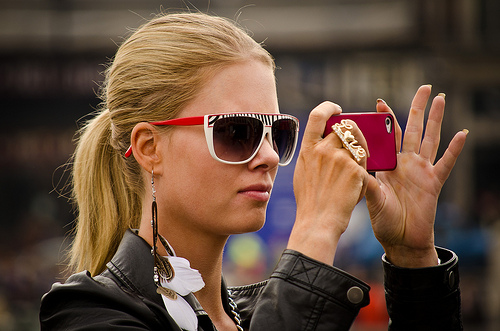 The temperatures might be hot, but the newest trends of the summer are even hotter! From bold neon color, to graphic prints, the hot new trends are all about bringing back the 90's. Here are a few hot summer looks for the new season.
Mixed Media
Once a popular trend of the 90's, wardrobes that combine denim, lace, and mixed patterns are making a big comeback. Pair some denim jeans with a lace v-neck shirt, add a pattern purse, and you will be sporting one of the hottest summer looks of the summer.
Neon Brights
Bold, bright, and full of color, the neon trend is back! This summer is all about the bright varieties of yellow, orange, and pink. For those hot summer dates, wear a bright orange dress with a pair of white Gucci sunglasses. Nothing says summer like neon brights and a great pair of shades!
Feminine and Floral
Floral patterns are always a hot choice for summer. This summer's hottest floral trends feature big flowers with touches of color- think wallpaper patterns. Nothing says summer like a floral, lightweight dress. Add a strand of pearls for a classic, feminine touch.
Braids and Lace
Always a popular summer trend, braids are back, and in a chic way! Brush long hair to the side, braid, and tie it off with a lace scarf. For short hair, tie the scarf around your head like a headband.
Sheer Solutions
Making a big comeback this summer are the sheer fabrics. Sheer fabrics work great for any occasion, whether you want a light cover-up to wear pool side, or just want to add a touch of femininity to a romantic date.Stay cool on your night out by combining your favorite jeans with a camisole, and a sheer overlay.
Go Green
One hot new trend of the summer is all about the green! Often overlooked in the summer, green always a great way to stand out in a crowd. With many varieties of colors of green to choose from, you will never run out of options for your wardrobe. Green looks great with just about any of the basic colors including white, black, brown, and also looks great with other colors. Accessorize a bright green dress with blue heels, and Gucci sunglasses for a bold look this summer.
Wedges and Flats
Keep the jellies in the closet, this is one 90's summer trend that did not make a comeback. Flats are the hottest summer trend in shoes, and are a great way to finish off that summer wardrobe. If you are looking for something with a little lift, heels are out! Instead, opt for a chunky wedge. From floral patterns, to bright colors, you'll find all of the hot summer trends available in wedges.
Summer is a big time for festive social gatherings, and pool side parties. Go bold, or go feminine, just don't go home this summer, without updating your wardrobe with these hot new looks.
Featured images:
License: Creative Commons
image source
Penny Perez is a contributing author to numerous fashion blogs. When she is not busy writing, you can find her at the beach, wearing her favorite Gucci sunglasses.