An efficient and cost effective way to source more self-employed courier jobs is to join the many other businesses who have decided to adopt a courier exchange system as part of their business. This ready-made system has the ultimate aim of making the industry more efficient and linking companies that require loads to be transported with an appropriate self-employed courier. Jobs are matched according to suitability on both parts.
An initial registration process and accreditation by the exchange team opens up so many doors to potential business opportunities and jobs. The exchange sources the jobs but it is still up to you to stay in control of the contract and the carrying out of the work. You can deal with other members of the exchange with a degree of confidence knowing that they will have been subjected to the same high standard accreditation process as you have and that their work ethic reflects that which the exchange promotes.
How Courier Jobs Reach You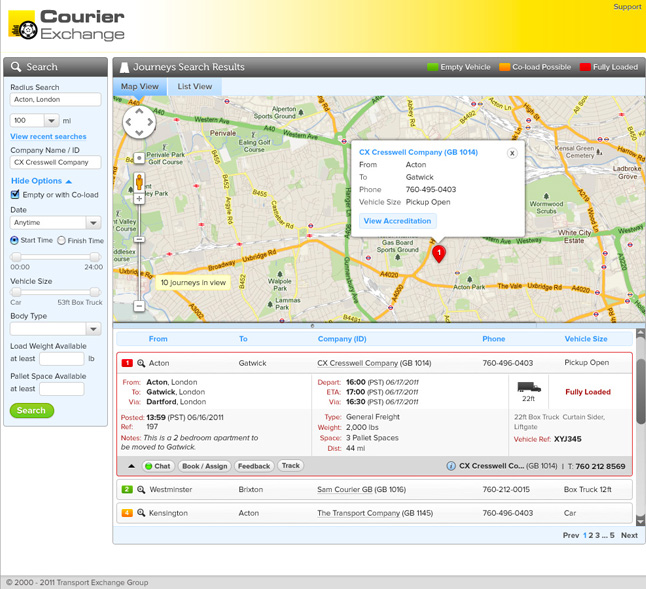 Before appropriate jobs for you are chosen, it is necessary that you fill in your profile detailing all of the specifications for your vehicle, your availability and that of your employees. The system then matches jobs for you and alerts you to them via email or SMS. The new Exchange Mobile App makes this process even simpler and brings an increased number of jobs to each business in an even more proficient way.
Self-employed courier jobs are sourced in a simple manner. First the exchange creates a 'geo-fence' around the location of a load that requires picking up. Then, if your vehicle is showing up as being in a specific zone marked around the location you are notified of the job. This effective way of matching jobs to businesses is logistically very successful.
To get the mobile download, all you must do is complete the registration process. The mobile application comes alongside the other tools that the exchange offers. Working with inbuilt GPS the mobile app keeps the exchange constantly updated with your location. Everyone on the exchange then know where you are and can contact you should they have suitable work that could fill a potentially empty return journey or top up a half load you may be carrying. If you do not want to be contacted, you are free to turn the tracker off, of course. With the 'one click' registration, your journey details are uploaded in double quick time and every time you accept a job the system is automatically updated so that the appropriate paperwork can be generated. Every part of the exchange aims to make your life simpler and help you manage your business in a more efficient and profitable way.
Once you have decided to accept a job it is your responsibility to contact the other business to organise carrying out the work and draw up the contract. When you are self-employed, courier jobs should be carried out under your strict control and the exchange makes every attempt to honour this. As soon as you have been alerted of the job, the rest is up to you. You carry out the job, make the contact and hopefully begin to develop relationships that will see your business go from strength to strength in the future.