How many times has it happened that you sit down to do a crucial task but even after 3 hours have passed, you are still stuck in doing it which could have otherwise been completed in just an hour? The answer probably might be too big to remember. It's true that there are so many distractions today plus a lot running in our heads which makes our concentration astray. However it's the era of smartphones today and with a range of time tracking apps available, we can boost our productivity levels and complete tasks under a given set of time. Here are some of those time tracking apps which will help you keep a tab on your schedule and help you follow it diligently:
aTimelogger
Be it a student who wants to complete assignments within deadlines or a working professional who has an extensive routine covering office work, duties at home, shopping for errands, making airtel mobile bill payment and shopping; this app is perfect for those who want to value their time and also find out about their progress levels after a week or month. aTimelogger has a simple user interface where you can list down the goals you want to achieve and within what time. The automatic time tracker within it will help you keep a check on your activities which will let you know how much far you are lagging behind. After a certain time period, you will get your report in the form of graphs and pie charts too.
Timesheet
If there's one app which will help you multitask and prioritize your tasks at the same time, it is timesheet app! With the help of this app, you can record your work at the mere push of a button. You can note down your breaks, expenses and notes. By adding your expenses to it, you can also keep your budget in control and be sure of not indulging in over spending. Plus after you have finished your projects, you can export your data to Microsoft excel where you can browse through the statistics report. Those statistics will help you in measuring your performance and let you know how far you have come. You can also use voice commands here to guide yourself!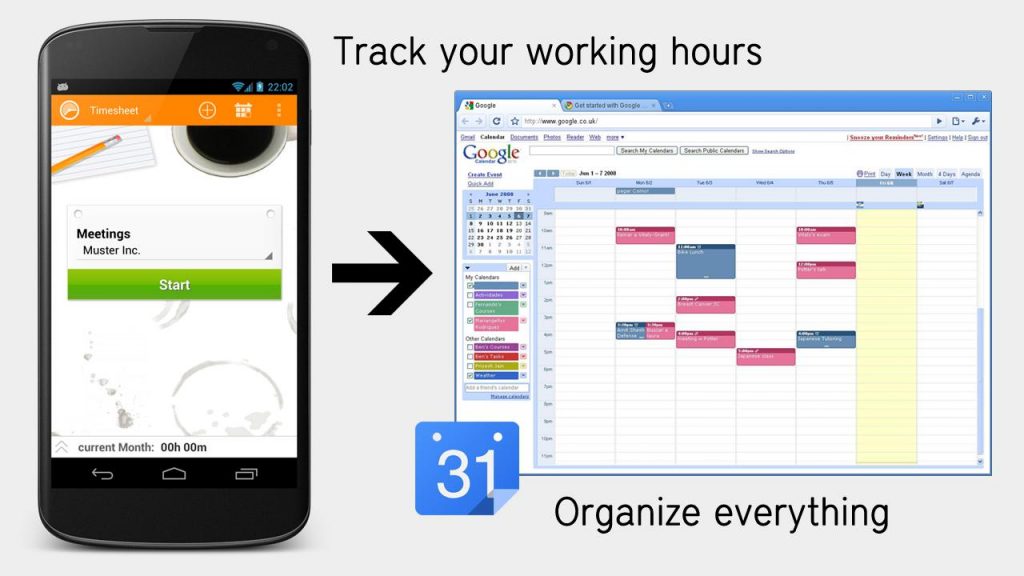 Myminutes
For this generation, one of the biggest blocks getting in their way to completing their work on time is internet. We start the browser with the intention of doing our online mobile recharge through Freecharge coupons or maybe to research on a topic for completing some assignment, but the search instead leads us to Pinterest where we keep browsing for hours for food porn and beautiful cities. And before we know, we are running out of time! "Myminutes" app will help you abolish that problem. You can set a goal here along with setting the time in which you should be completing it. And then see yourself getting tasks done quickly and successfully.
Jiffy
Wouldn't it would have been great if we could do tiny tasks in just a jiffy without any distraction distracting our mind? Well, that's possible now with Jiffy! Jiffy is a popular time tracker app and has helped countless people in achieving more every day. You can list down your projects here and as and when the day progresses, keep switching between them. You can even edit the entries placed in by you in case of any change. The reports generated by them can benefit you immensely if you study them carefully and take note of the areas where you are lacking and improve on them. You can view the reports by week, month, year or even personalized time range.
Toggl
Toggl is a widely used productivity app by employees to track their time and use if efficiently. It is a leading cloud based time tracking tool for accurate and clear client billing and for boosting productivity level by keeping a check on activities on a timely basis. You can log in your time here both online and offline. Set projects here with a deadline to finish them quickly without compromising on quality. The detailed time record reports will show how you spent time and make you learn from it.