Nowadays, something which is very synonymous with beach holidays is the sight of canoes and kayaks being available for hire. In the vast majority of beaches, at least those which are commercialised in some regard, it's possible to hire one of the above contraptions and kill a few hours in the sun and sea with them.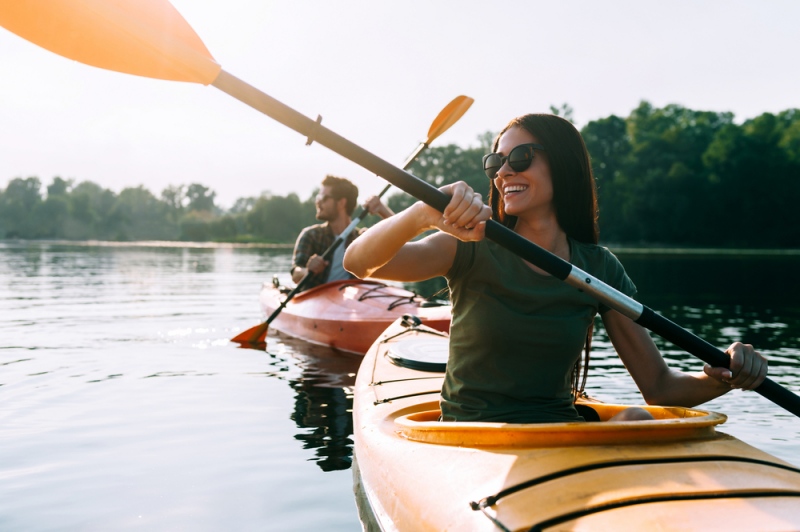 For the beginner, it's very hard to determine what you are actually climbing into though. This is the reason today's guide has been put together and with the help of Anouk Govil, we have detailed the various types of canoes and kayaks that are typically available to hire around the world.
Sit on top kayaks
If you are the ultimate kayaking beginner, it's time to tune into this section. Sit on top kayaks are some of the most stable around and the beauty about them is that they can be used in an array of waters, including rivers, lakes and the sea.
There is a slight indent for you to place your body in and in comparison to other types of kayaks, they are a little wider which provide that elusive stability.
Sea kayaks
At the other end of the spectrum we have sea kayaks. The design of this equipment is very distinguishable from the outset. They are typically longer and will travel faster than most other types of kayak. They are also designed to be used in challenging conditions, which means that they are not always suited to beginners.
Something else that should be noted about these kayaks is the storage space. Typically, they have several hatches which allow you to store items, and take to the sea with a wealth of accessories.
Inflatable kayaks
As the name suggests, these kayaks can be inflated. For those of you who are looking to perhaps travel around the country, these are ideal as they can be deflated and stored in very small spaces.
Of course, they are hardly going to be suitable if you professionally compete in the sport. However, for those of you who do it on a recreational level, they can provide a very good and flexible option.
Canadian canoes
This next type is much different to anything we have looked at previously. This time, it's a canoe in design, which means that it will generally fit at least a couple of people. They are not designed to go quite as fast as kayaks, and ones of the Canadian variety are designed for recreational use.
White water kayaks
The final type that we are going to look at comes in the form of white water kayaks. As the "white water" element of the name might have suggested, this is for very challenging situations. If you are attempting to surf with your kayak, or go overs some extreme creeks, this is the type of kayak that you should most definitely be turning to. With that being said, some white water kayaks are quite suited to beginners, with a few design modifications making this possible.