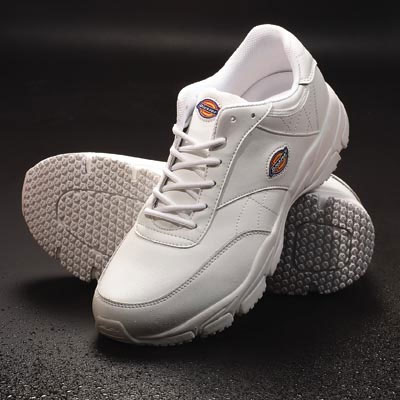 If you are looking for slip resistant shoes for your staff to wear when they are at work, it might seem like a bit of a daunting task. It's really important to find the right ones to suit the conditions they work in because if you work in the healthcare industry, you really don't want your employees to wear heavy shoes but rather lighter ones that are comfortable to wear. However, there are certain factors to take into consideration which might make the process of finding non-slip footwear that much easier and as a bonus; you may find your employees actually like wearing them. Below is a guide to slip resistant technology in the footwear industry which might help you choose the right shoes for staff to wear.
Decades of Research & Testing
For decades the shoe manufacturing industry has spent a lot of time, effort and money on researching non-slip soles and the best materials, treads and patterns to use so that people can comfortably wear them at work without losing sight of their need to look good too. The end result has revolutionised the safety of people when they are in the workplace with a choice of soles that are the perfect solution to many working environments which includes areas that are considered more hazardous whether in the restaurant industry, healthcare sector or other.
Safe Shoes to Wear in Many Working Environments
A lot goes into slip resistant shoes on every level with only the strongest and toughest materials used in their manufacture. This includes water-resistant leathers paired to the highest grade rubber and ballistic knits. The other factor that makes slip-resistant shoes so safe and comfortable to wear is the fact that many designs incorporate deep cushioned insoles and arch supports, perfect for people who have to spend a lot of time on their feet when at work.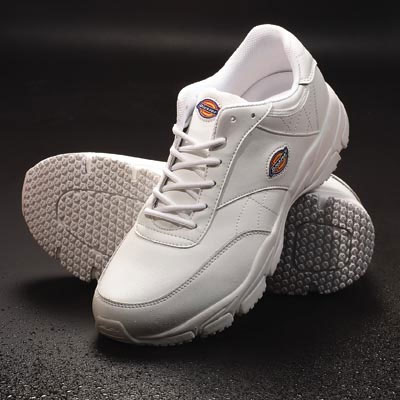 Rubber Compound Soles Offering Brilliant Grip
The soles are made with a rubber compound and this offers brilliant grip on all sorts of floor surfaces. However, it's the tread patterns that play such a key role in the way that liquids are taken away from underfoot and as such it minimises the risk of an employee slipping on wet or greasy floors.
Lightweight Options: The Perfect Solution for Healthcare Workers
However, there are other designs which are better suited for people who need to wear safe footwear without the weight of them dragging them down. The perfect slip-resistant shoe for this type of workplace would have a lightweight and very flexible midsole although there is another design which would suit the conditions too, namely a shoe that boasts a lightweight yet durable rubber sole with the result being a very much lighter shoe all round. This design is a very popular choice in the healthcare sector because it provides comfort, style and safety all rolled into one.
Slip-resistant Shoes That Offer Tremendous Grip
For working environments where grip is essential, there are slip-resistant shoes that boast a patterned micro-channel tread made out of a rubber compound that ensures perfect grip on hazardous surfaces. This includes areas that are often wet or greasy such as restaurant kitchens or factory floors.
Conclusion
Choosing the right slip-resistant shoe for employees to wear at work is really important and the good news is employers can choose great designs to suit an environment that are both comfortable to wear, stylish and extremely safe. You would need to check the rating of slip-resistant footwear and to source them from well-established and reputable shoe retailers. It's best to choose a manufacturer with their own brand of non-slip shoe (like Shoes for Crews) because then you can be sure of buying top notch slip-resistant shoes with supporting guarantees.