Over the years we have seen winter metamorphose into a glamorous and festive time. Bright colored sweaters, knee-high boots, cheeks with a natural blush, sleek hairdos, camel coats, what's there not to love? At least that's what the glossy magazine pages, Hollywood flicks and movies would like us to believe. Closer home, winter is about lots of warm chocolate, never wanting to get out of the blanket, snow boots, oversize sweaters, monotones, and baggy layers.
How do you infuse fashion and style into such a gloomy wardrobe? Well, you can take some serious inspiration from the Pinterest boards, and your favorite celebrity's winter style. But, recreating all those looks is impractical, and will burn a hole in your pocket.
Instead cook up ways of creating your own winter style that is fun, and sophisticated. From dabbing on a bold lip color to wearing a shimmer top in the day, or giving a twist to the leopard print, here are six tips to look chic and stunning through the cold months.
1. Experiment with Cozy Cardigans
Cozy cardigans and Oversized sweaters are pretty much the winter staples we all love to wear. But, they don't always need to make you look slouchy and unattractive. Make them stylish commodities without compromising on your warmth and comfort.
Pair your button down cardigan with a sequined top. Throw on a leather or suede jacket on top and sport a worn-in jeans with ankle boots. You will cut quite a stylish picture.
As, winter approaches its end and the days get slightly warmer, turn your oversized sweater to a dress and team it with thick tights. Use a skinny belt to cinch the waist.
Pair your gray, navy, and black sweaters and cardigans with colored jeans and printed blouses to add a funky feminine touch to your outfit. Add a pair of striking danglers or a couple of chunky bracelets and your outfit is pure gold!
2. Ace Your Layering Game
Layers are inevitable when the temperatures start dropping. Knowing how to layer your clothes right can give you an edge over the rest, and be your key to looking chic all winter.
Get those delicate dresses out and layer a baggy sweatshirt over them to look fashionably nonchalant.
Layer a denim or solid shirt over a plaid shirt. Throw on a leather jacket in tan, brown or black. Now roll up the sleeves to show off the cuffs. The layering of two button-down shirts looks chic and charming while the cuff peeking out, adds a sharpness to this look.
One of the reasons we love winter is the immense scope it offers to experiment. This winter, layer a dress on a dress. Layer a darker turtleneck dress under a brighter colored sleeveless shirt dress to beat the winter blues in style.
Play with jackets by layering a fur jacket on an army or motorcycle jacket. Wear a resplendent overcoat on your denim jacket. Pop the collars up for some instant drama. Use layering as the perfect instrument to elevate the drama and freshness quotient in your winter wardrobe.
3. Scan and Skim Your Closet for Retro Treasures
The London, Milan, and Paris runways were witness to the dramatic rise of the 80's. From fishnet tights, to coming together of leather and lace, and revival of velvet and satin, the glamorous 80's are all set to figure high in our winter wardrobe.
Search for those broad belts and net stockings in your trunks and closets. Mix and match these statement pieces with dresses that have a body hugging silhouette. Exaggerated sleeves and shoulders are back in vogue. If you are one of those lucky few who held on to their bell sleeved tops from the mid-nineties, it's time to flaunt and restore them.
The classic plaid is having a fashion moment! Browse through your closet, and dig up all those plaid pieces you ever bought, from the scarf to the skirt, plaid is all over, stilettos is your guaranteed way to look fashionable through the winter season. Team the plaids with solid blazers to up the ante and look classy.
A word of caution though, when you swing back to the eighties for winter fashion inspiration, make sure you do not bring back the whole era in your look. Add a modern touch to the retro elements and make it look contemporary and apt for our times.
4. Stock Up on Statement Accessories
Break the monochromes of winter with statement accessories like red booties, bright colored beanies, metallic cuffs, asymmetrical shrugs, spiked stilettos, tassel totes, boxy sling bags, tan oxfords, and of course, statement earrings. Danglers, hoops, studs, chandeliers, winters are the season to sport earrings of all shapes and sizes. Whether you want to dress up for the evening or dress down for daytime, the right set of accessories can make all the difference, and bridge the gap between nice and wow!
5. Add an Element of Quirk to Your Outfit
Being fashionably unpredictable was always fun, now it is stylish too! Think beyond the box. So you heard, cuffed shorts are not for winter? Break the rule and team your cuffed shorts with thick tights, printed blouses and delicate cardigans.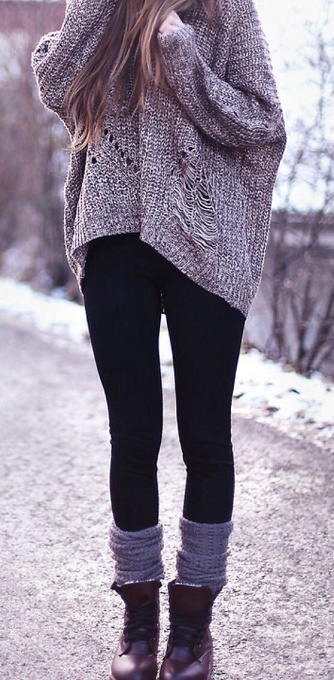 Instead of the grays, pinks, blues, and blacks, opt for a fuzzy sweater in bright neon. Pair it with distressed denims, or boyfriend jeans. Take it a notch higher by teaming this look with heels and a cute pair of socks. Yes, you heard that right! The right pair of socks can turn your evening shoes into sleek day wear that you can go strutting around in.
The idea is to add some element of quirk and eccentricity in your outfit. A quick recap of the fashion weeks will tell you that the trend of the moment is to be distinct, unabashedly you! So go on and add that own quirky element of yours to nail the winter chic look.
6. Keep the Skin and Hair Lustrous
A big part of looking chic is having radiant skin and lustrous hair. Winter tends to take a toll on our skin and hair. Moisturize extensively. Stock up on creams, butters, shampoos and conditioners that can heal, repair, restore and replenish your skin and hair. Keep trying out free product samples to figure out what works for you best and be regular in your hair and skincare routine.
To Conclude,
If looking chic is what you have in mind this winter, these are the tips you need to quickly brush up on! Most of them are quick and won't make you break the bank. Team these up with a beautiful smile and you are soon on your way to become the winter style queen!
(Image Source: 1, 2, 3, 4)
Korie Cantor is a blogger and writer who blogs about fashion and lifestyle. She possesses a great sense of style. Being a fashionista, she loves to share her thoughts about fashion and it's latest trends.