The kitchen is one of the rooms in the house that can be filled with many, many things. As well as permanent items, like pots and pans, you also have things going in and out all the time. If you fancy yourself as a bit of a design whiz then follow these tips, alternatively, you could take advantage of a free kitchen design so you don't have to worry about any of the schematics.
Whether your kitchen is small or large, you need to make sure that you use its space as well as you can. Think about how you can store everything in sensible ways, as well as the design choices you can make to maximize the use of space. There are plenty of ways you can ensure that you get the most out of your kitchen.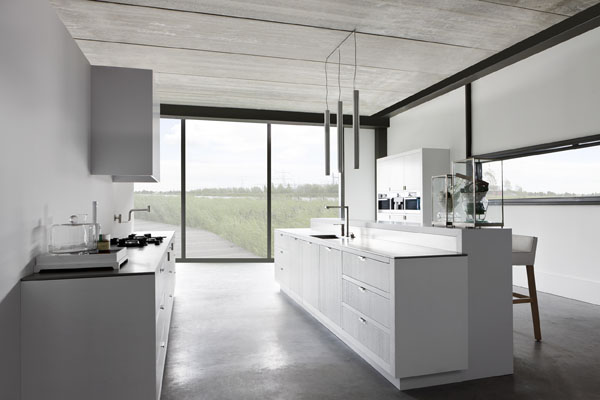 1. Store Things in the Oven: 
If you have a very small kitchen, you should look for any space available to store your things. The oven is an excellent place to put baking and roasting trays, as well as various other cooking tools – especially if you organise things into compartmental storage containers. However, remember to take out anything you're not using before you turn on the oven! Other spaces you could make use of include the top of your fridge or cabinets.
2. Use Vertical Space: 
Whenever you're trying to make better use of any space, you should consider the vertical space you have available. If you do this, you won't have to use so much of the floor space, and you'll have more room to move around. Of course, in a kitchen, some of your vertical space will be taken up by cabinets. However, you should still be able to use the walls and ceilings. You can use hooks to hang things, from utensils to pots and pans.
3. Add Extra Storage: 
Not enough storage in your kitchen? Add it in. You don't have to rely on the built-in cabinets that you already have. You can buy storage to add to your kitchen space, and it doesn't have to be designed for kitchen use, either. A dresser might make a great storage place for all your dry goods, such as pasta and legumes.
4. Organize Things with Logic: 
A lot of people make the mistake of storing things without much thought. They just put everything in the first place they see. However, if you think about it more carefully, you can use the space better. Consider which things you use most often and where it's sensible to store them. What needs to be kept away from the heat of the oven? What do you need to have within easy reach when you're cooking?
 5. Store Crockery and Cutlery Elsewhere: 
You need plates, bowls, glasses and cutlery when it's time to serve your meal. But these things don't have to live in the kitchen. Even if you sometimes eat in there, it can make more sense to put your crockery and cutlery somewhere else. Store them in your dining room or even in your living room if there's space.
6. Limit Your Worktop Appliances: 
Finally, try not to have too many appliances on your countertops. If you must have some handy, gadgets, find somewhere to store them when you're not using them.
You can make better use of your kitchen space if you only give it a little thought. A few changes could make a big difference.