5 Different Variants Of Kachoris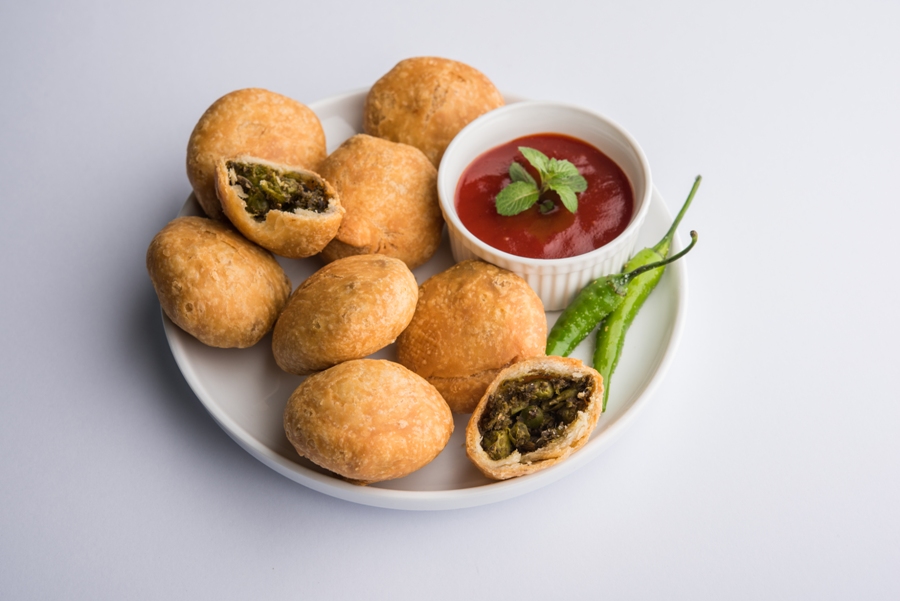 Kachoris are filled with surprises, and is the most satiating and simple snack of all time. The fillings are of various types, and that is what makes a kachori so exciting to have, as you can have various options of fillings to select from, such as onions, potatoes, green peas, mawa, dal, etc. They are crunchy on the outside and inside have a soft, melt-in filling.
Such beautiful, delicious kachoris are heart melting, and are an easy prep also, so can be made easily in the house as well. They are available at almost all of the street food stalls, and are the best. During the time of monsoon, holi, uttrayan, Diwali, or any festive occasions, this fried food, warms the soul and heart. Health conscious fellows can also bake them rather than deep frying, and use wheat flour instead. It offers room for a lot of creativity and customization. Such mouth-watering delicacy can be eaten plain, or can be topped with other suitable accompaniments such as curds, chopped tomatoes, imli or tamarind chutney, khajur or date chutney, onions, coriander and chilly chutney, and so on. Let's look at different types of famous Indian kachoris, which are just delightful to have.
UsalKachori
The filling of this kachori is of usal that is made up of the sprouts which are cooked among various spices and tangy chutney. This is one of the most trending kachori, now-a-days, which is finger licking, spicy, and delicious. This type of kachori is very famous in Pune and Indore.
JodhpuriKachori
Jodhpurikachori, gives you the idea that it surely is from Rajasthan. It comes in a huge size that is with diameter of around 8cm. The filling inside this kachori is of potatoes and onions, along with various spices. It is flat, very crispy, and delicious to have. If you haven't come across this famous kachori, then do try it out, and it isn't something to miss out on. Rajasthan is the place from where the existence of kachoris came to place.
Moong Dal Kachori
This is a famous Guajarati style kachoris, which are small in size, but are tasteful to have. They are crispy and flaky on the outside and inside filling is seasoned with moong dal. Due to such healthy filling, it is good protein boost up for the kids.
MawaKachori
This is also known as Gujjias, and is famous in Gujarat and Rajasthan. During the time of Diwali and any such festive occasion this delight is made in every house. It has a filling of mawa or khoya, and dry fruits, which are deep-fried like a regular kachori. It is must have, and during festive season, it will have your guest ask for more and more.
Club Kachori
This type of kachoris, are basically like puris, clubbed with differed ingredients that are served along with mouth-watering potato-onion curry or pumpkin curry. There are different types of club kachori recipe availablethat you can try out.
Kachoris are something that can be seasoned with any type of fillings. So, delight your taste buds with such amazing and versatile kachoris.