12 Types Of Sarees From Across The Country Every Indian Woman Must Have In Her Wardrobe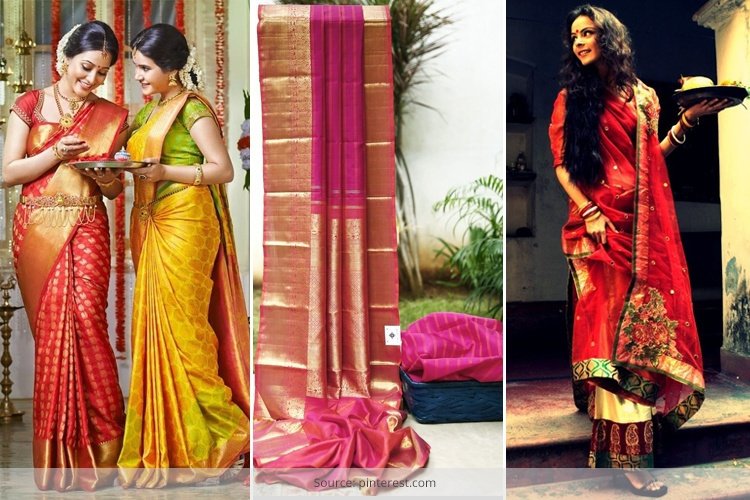 Sarees are the most traditional form of an Indian outfit. It is graceful and makes any woman attractive. So let's talk about the 12 most fabulous types of sarees that an Indian woman must have.
1. Banarasi- Full of vibrant colors and mixed with 'zari' work all over giving the gorgeous appearance, a Banarasi saree is the first choice of a bride. The texture and intricate work is the ethnic piece from Varanasi. The touch of tradition makes it grander. For a wedding ceremony or any magnificent celebration, a banarasi saree is the first choice.
2. Chanderi- These sarees are from Madhya Pradesh. They are made with supreme tissue silk and give a nice sheen texture all over. Varieties of patterns of floral motifs, geometric patterns and so on make it even more beautiful. The traditional style of accessories goes really well with a chanderi saree. They are perfect for a formal occasion or in-house party.
3. Tant- West Bengal is famous for this traditional saree. You can purchase a variety of best tant collection from various saree stores in Kolkata or from online shops. They are superb during Durga Puja, Diwali. Women in simple makeup and jewelry and wearing a beautiful tant saree will surely turn your head.
4. Kanjeevaram- South India is known for its stunning Kanjeevaram sarees. They are mostly used for wedding ceremony. Brides look gorgeous in a Kanjeevaram silk. Heavy gold jewelry are the best choice. Even North India craves for this beauty. The borders of these sarees are the main attractions.
5. Kalamkari- As the name says kalamkari means the art of pen. That is these sarees are known for creativity and intricate handwork. You can try for Kalamkari sarees if you have a taste for ethnic and cultural beauty. The artwork is from mythology and history. There are varieties of kalamkari sarees found in different shades of colors and designs. Modern women prefer to wear them in office and casual party.
6. Batik- This is a type of print that displays creativity using wax and dye. They are perfect for all seasons and look good at any age.
7. Bhagalpuri Silk- Also known as tussar silk. They originated from Bhagalpur, Bihar. Traditional style is perfect for these sarees. They are mostly worn in occasion as they look very gorgeous.
8. Sambalpuri- Beautiful embroidery work is the main beauty. They are found in cotton and silk sarees.
9. Kosa- It is a famous silk fabric that is cultivated. The sarees have an elegant feel. Team them with right accessories and you are ready to win the crowd.
10. Dhakai Jamdani- These sarees are the tradition of Bangladesh that is loved by all Bengali women. The jamdani work makes them more charming. They are very comfortable and lightweight.
11. Panchampalli or Pochampalli- The traditional work of these sarees is from the Telangana state. They make fine outfits for the casual and formal occasion.
12.Paithani- Another wonderful piece full of amazing patterns of birds, animals, plants and flowers, these sarees are just the perfect for the festive season. They look great with beautiful neck pieces and bangles.