Why Vietnam's Great For Adventure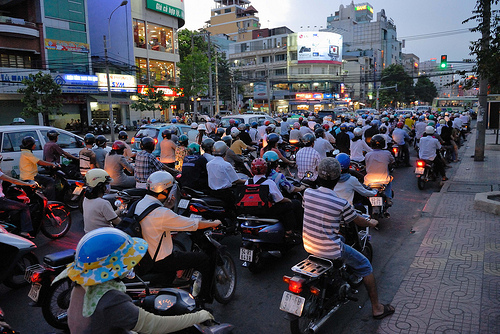 There's just something about Southeast Asia that shouts 'adventure' incredibly loudly and if you're like me and love the thought of exploring and discovering against an incredibly scenic backdrop then this is certainly a region to check out sooner rather than later.
As with all 'lesser-visited' areas, the word spreads pretty quickly and this is certainly true of Vietnam which is fast becoming one of the world's favourite adventure playgrounds but still holds plenty of mystery and excitement for newbies to Asia.
Below are just a few examples why Vietnam is a 'must visit' spot for singles and small group holiday makers and if you'd like to see more options and destinations then go online today and discover a world of adventure.
Bamboo Rafting
Keep your eyes peeled on the river banks as your guide punts his way downstream and you maybe surprised by what you see peering through the undergrowth. As the current gets a little stronger, you could be asked to assist and as you dip your pole deeper into the faster-flowing water your energy levels will rise as you begin to pick up speed. This is bamboo rafting, Vietnam-style, and if you're hoping to explore the jungle afloat then this is certainly the best way to do just that.
Hill Trekking
If you'd prefer to undertake your adventure exploration on foot then Vietnam holds a wealth of trails and tracks that enable you to gain access to some incredibly scenic spots that have got 'adventure' stamped all over them. Sapa, in the northwest of the country, is an excellent place to start any trekking tour and you'll find a wide range of mountain foothills and steeped agricultural landscapes that make for some truly beautiful backdrops to your trekking adventure.
Cu Chi Tunnels
It's very difficult to escape Vietnam's past when exploring Ho Chi Minh City and if you're looking to quite literally unearth the conditions and the tactics that were employed during the conflict with America then there's no better example than the Cu Chi Tunnels. This is a vast labyrinth that was used to hide and house the resistance movement and you'll be able to find out what it was like to live underground as well as having the chance to fire off an M16 rifle or an AK-47.
Hanoi
Adventures of a different kind can be found on the streets of Hanoi as from a wealth of historic sites to simply crossing the road there's plenty of options to get your pulse racing just that little bit quicker. A night out in Hanoi is definitely an adventure in itself with cocktail bars, karaoke booths and plenty of night clubs providing loads of fun as well as the chance to meet the locals and swap cultural nuances. If you really want a totally Hanoi adventure then hire a scooter and hold on tight!
My Son
This site is perfect for wannabe Lara Crofts or Indiana Jones' as it contains a series of ruined temples that have been left to gather grass making them ripe for adventurous explorers. With over 70 temples and tombs in all, this site is often compared to Angkor Wat in Cambodia and if you're visiting Quang Nam Province in the centre of Vietnam then make sure you pay your respects before you decide to hit the beach.