Travel Guide For Shoppers In Verona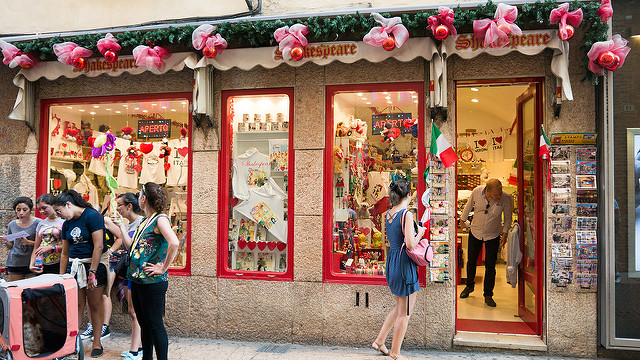 Nowadays modern fashion items are directly connected with Italian fashion houses, for this country is a trend-setter of contemporary style and charm.
Thus, today lots of fashionistas prefer either to shop on the Internet or go for new clothes directly to Milan.
Nevertheless, few people know that in Verona shopping can be as great as in Milan with the only difference that it is more relaxed and cheaper than in the Italian fashion capital, while the range of goods and their quality is the same.
So, what you need to know when going to shop in Verona? What places are worth visiting, and what things are worth to buy? Read on this article and you will get all the instructions.
First of all, it's necessary to mention that Verona is one of the major manufacturers of footwear and leather goods throughout Italy. You can find this produce in the shops of the central part of the city and near the private concerns. Now let's consider Verona's major shopping streets:
Corso Santa Anastasia
This street is the favorite one among shopaholics. The boutiques there are selling clothes of the latest fashion collections from leading local designers.
The connoisseurs of art and antiques should visit the stores like Arts Noveaux, Boxart, Antichita Sottoriva or Antichita Due Torri.
Via Mazzini
It is located north of the Piazza Bra. The street starts from Arena di Verona and extends up to the T-junction with Via Cappello. Since the street is narrow and crowded with tourists it is advisable to go there at first for window-shopping just to check out the prices, and next morning you can set off directly to the shops that you liked.
Corso Porta Borsari
This marketplace lies parallel to Via Mazzini. There are also lots of shops with high-quality clothing. On the side streets, which are practically free of tourists, you can find some very interesting items from such brands like DG, Etro, Stone Island and others.
Via Pelliccial
If you take no interest in purchasing branded clothing but have high demands in terms of quality, you will like the shops on via Pelliccial Street. You can enjoy there reasonable prices for the footwear and clothes of little-known Italian designers.
Shopping Malls in Verona's Suburbs
There are three major shopping malls outside of Verona, where you are recommended to go using a cheap rental car to comfortably carry all your new purchases.
La Grande Mela
This large three-story shopping center includes a movie theater, a billiard room, boutiques, playgrounds, bars and restaurants. In total there are over 130 stores. You can relax there, have fun and shop for clothes of Italian brands. Everyone regardless of the age will amuse himself in the walls of this mall.
Centro Commerciale Le Corti Venete
This mall with large parking area is located near Verona on the highway A4 leading to Venice, which is around ten minutes' drive from the city. You can enjoy there around 60 stores, restaurants and other entertainment sites.
Grand'Affi Shopping Center
This mall is located near Lake Garda and includes more than 40 stores, as well as a large supermarket. This shopping center also provides good entertainment opportunities. You can visit it from Monday to Saturday from 9am till 9pm.
What to buy in Verona
When walking along the city's streets you won't stop wondering how many interesting things Verona can offer to its guests.
Romeo & Juliet Souvenirs
When you think about a souvenir from Verona, most probably you might want to buy the one connected with Romeo and Juliet. So, if you want a souvenir like that you need to go to the Juliet's House. You can buy there key chains, mugs, T-shirts, and other items connected with the story of these renowned characters.
Wine
The province of Verona is a unique wine-making region of northern Italy and it would be unforgivable not to take home with you at least one bottle of delicious local wine. You can choose wine of such brands like Amarone, Valpolicello, Soave and Durello. There are lots of wine cellars in the city center, offering local and foreign wines.
Verona's specialties
When you go to the grocery store, don't forget to buy some traditional sweets of Verona like Sospiri di Romeo or Baci di Giulietta almond cakes, Pandoro Christmas cake, Sbrisolona crumble cake and some traditional Italian cheeses.
Clothing
Certainly, your visit to Italy would not be complete without purchasing fashionable clothes, fine cosmetics, excellent quality footwear and handbags. And Verona will bring you lots of pleasure in terms of this kind of shopping. You know already where you need to go for that…
Exclusive Goods
Those who want an exclusive purchase need to consider a small shop Mephisto located on Piazza delle Erbe, offering handmade leather shoes. On the same square you will find a market selling handmade souvenirs like masks, magnets, plates, dolls, etc.
When planning shopping in Verona, don't forget that the local stores usually close for a lunch break from 12:30 till 15:30 and stay open until around 19:30. On Sundays you can visit only shopping centers, for small shops are usually closed. Some stores are also closed on Monday morning.
Summing it up, shopping in Verona can bring you lots of pleasure. But along with that even this way of pastime will not prevent you from plunging into the romantic atmosphere of this place!
Author Bio: Lily Berns tries to find the best and brightest things to do, while you travel in different cities of the world. For comfortable voyage it's better to use rental vehicle which you can choose on rental24h.com