Another year of laughter! 2013 has come up with some of the best and biggest comedy movies. Some of the comedy movies are expected to make a bash on the big screen. Some of the comedy movies are sequels while others are standalone movies. The funny movies this year will come to you as the third Hangover, Seth Rogen and apocalypse coming face to face, Steve Carell as the magician and so on.
Check out the list of the movies to get an idea of the hilarious moments to be experienced in the current year.
A HAUNTED HOUSE
Director – Michael Tiddes
Star Cast – Cedric the Entertainer, Essence Atkins, Nick Swardson, Marlon Wayans
Release Date – 11 January 2013
Storyline –
When Atkins and Wayans, the newly wed couple, shift to their dream apartment, they discover that they are being accompanied by someone else. But it is not a haunted house, it is their house which is possessed by spirits which is termed as "relation baggage". He takes the assistance of a priest, Cedric, a psychic, Swardson and the ghost hunters for exorcising her. This is movie is a parody of "found footage" films, The Devil Inside and Paranormal Activity. Stay away from this movie, if you have not reached the age of 14.
IDENTITY THIEF
Director – Seth Gordon
Star Cast – Jon Favreau, Amanda Peet, Melissa McCarthy, Jason Bateman
Release Date – 8 February 2013
Storyline –
When Bateman, the mild-mannered businessman, comes to know that his identity is stolen by McCarthy, a shopaholic, he punches the road for foiling the thief. In his attempt, he discovers how difficult it is for an individual to get back his name. Identity Thief gives McCarthy a lead role after her success in "I'm a fan" and "Bridesmaids".
21 AND OVER
Director – Scott Moore, Jon Lucas
Star Cast – Sarah Wright, Justin Chon, Skylar Astin, Miles Teller
Release Date – 01 March 2013
Storyline –
Jeff Chang, a college student has always performed what he is expected to do. The change came when his two best friends, Miller and Casey, gave him a surprise visit on his 21st birthday. Then, he decided to do something unexpected, something quite different from his usual track. This movie will show you how a beer can be the cause of chaos for a night over utter debauchery and indulgence. This is a perfect movie for those who are searching for youth's party movies. You will have a good time!
Watch the movie and don't waste your time in asking why Jeff cannot celebrate his birthday party with his friends.
ADMISSION
Director – Don Scardino
Star Cast – Olivia Wilde, Steve Buscemi, Jim Carrey, Steve Carell
Release Date – 15 March 2013
Storyline –
In this movie, Burt Wonderstone, the Las Vegas magician played by Steve Carell tries to reunite with Anton Lovecraft, his previous partner played by Steve Buscemi to compete against Steve Gray magician. The very theme of the movie seems to be promising. Well, you might not be a big fan of the comedy of Jim Carrey but you will certainly like the character of Carell. He is great! Just imagine the movie "The Prestige"! The laughter it delivered…
SCARY MOVIE 5
Director – Malcolm D. Lee
Star Cast – Charlie Sheen, Kevin Hart, Anthony Anderson, Molly Shannon, Simon Rex, Ashley Tisdale
Release Date – 12 April 2013
Storyline –
This movie is horror-spoof of two friends making an attempt for a lead in the snobbish ballet company. Both these friends are haunted by their mother who wishes them to succeed any way. This movie is a parody of Paranormal Activity and Black Swan. You will find Charlie Sheen and Lindsay Lohan in small roles. David Zukcer is regarded as the "king of spoof movie". He is the co-writer in this movie. Let's hope that you will get a wonderful to watch.
THE HANGOVER PART III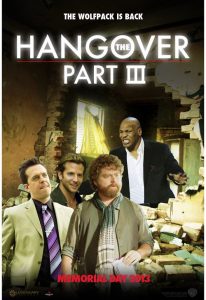 Director – Todd Phillips
Star Cast – Justin Bartha, Zach Galifianakis, Ed Helms, Bradley Cooper
Release Date – 24 May 2013
Storyline –
This pack has returned again for another misadventure. The only thing is that this time lost memories will have no role to play. The story of this movie is about Stu and Phil who abducted Alan from a mental institution, which ultimately turns out to be a road trip. Although Director Todd returns through this movie, yet it is said that this movie marks the last Hangover for all.
THIS IS THE END
Director – Seth Rogen, Evan Goldberg
Star Cast – James Franco, Jonah Hill, Danny McBride, Jay Baruchel, Seth Rogen
Release Date – 14 June 2013
Storyline –
While Emma Watson, Rihanna, Seth Rogen along with the other stars partying at James Franco's home, they came across apocalypse. This is the action comedy movie where the individual actors play their role. This movie has a hilarious tone and the comedy cast is really great. You will love this movie.
Author's Bio: Alice Aires is a movie blogger. She lets her reader know about the different types of movies in theatre. She derives pleasure and is highly grateful to have the different DISH Network channels on movies.