Things To Do On A Safari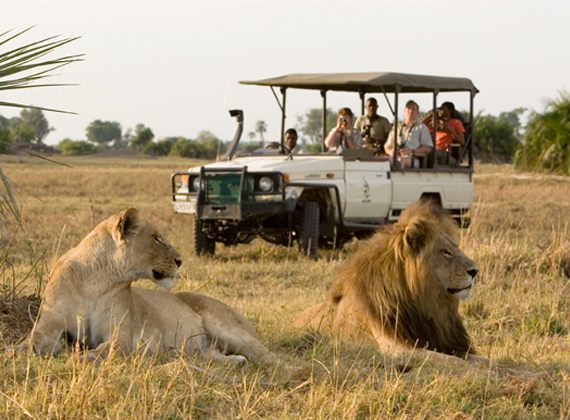 A safari trip to Africa is something that everyone must do at least once. It's something they'll never forget. It's not like a trip to the zoo, and it's not quite like a tour to a picturesque, natural wonder. If anything it's like both the things combined, and yet nothing of the sort. Being lost for words to explain the experience is something common among those who have experienced it. However, there are a few things that you can do that will enhance this once in a life time encounter with the wild, and we're going to tell you five of them.
If you're headed to Zimbabwe or Zambia for your safari trip then be sure to go for a guided Bushwalk. These are the only two countries that have this form of safari tours available and they are something of a treat. A 2 to 3 hour walk and camping among nature's finest flora and fauna creations, you will not be able to help yourself but be stunned by the magnificence. One to one with nature, with no cars or cages or jeeps in between, you'll see and enjoy things easily missed otherwise.
Being on a safari is adventurous enough, but it never hurts to push it just a little but more every once in a while. So if you're up for an adventurous journey of a lifetime, then make sure you rake a guided canoeing trip. These trips can be from a few hours long to as long as 10 days. Maneuvering your canoe between the twists and turns of African rivers, or simply floating along a calm straight, while catching breathtaking glimpses of some of nature's rawest and fascinating aspects is one of the most rewarding activities that anyone can experience.
You'll get to see the side of wildlife in Africa that no regular safari can help you see. Hippos in their natural habitat, famous elephants' trunk showers, and numerous other species including a wide variety of birdlife are just some of the things that you'll get to enjoy.
The safari trips often pass near multiple small villages, where the locals have still maintained a large part of their ancient culture and heritage. Therefore, if you have thing for some local flavor then try to mingle a bit. African villagers are known for their hospitality, and you'll find that out soon as you show up to their doorstep. Tourists who have interacted with the locals have often claimed their visits to be the most eye opening and wonderful experiences of their lives.
You can even participate in African villages' daily chores. From carrying water and firewood to sitting for hours around a smoky fire many people feel that their lives are forever changed by this experience.
While you're out viewing animals, why not ride them too!  Africa offers the unique opportunity to actually travel the length of your safari trip on the back of an elephant. Lasting anywhere between half a day to several days, these safaris will allow you to truly understand the giant animal. Watching it feed, rest and play will create a connection with the beast that will remain a part of you forever. In fact, if you're luck, you'll even get to swim with the elephant.
You'll find that despite its daunting size and intimidating presence, the elephant is an extremely gentle creature; a friend on the plains of Africa who you'll never be able to forget.
Lastly, no safari is complete without a little fishing. Especially rewarding are photographs of the catch that you'll be carrying home with you. With a vast variety of fresh water fish in the stores of remote African lakes and slow flowing rivers, you'll be sure to impress all your friends back home. In fact, if you're up to the challenge, you can attempt to catch the notorious tiger fish. Well known as being extremely difficult to catch, the tiger fish is the world's most powerful freshwater fighter.
Other than that, private bass dams abound, and clear mountain streams are often filled with trout. So there's also plenty of relaxing activities available in African safari tours.
Well what are you waiting for? Book a flight to johanisburg, and plan a safari trip into one of the many nature reserves in Africa. With cheap flights to Botswana, Kenya, Mozambique, Namibia, South Africa, Tanzania, Zambia, and Zimbabwe available, your dream vacation is that bit closer.
Featured images:
License: Royalty Free or iStock
source: Safari in Africa
License: Image author owned
Jason Wood is the article/content writer for worldwide holiday destinations. He is working with Travel House UK, the company lets you compare your cheap flight deals that you want to bargain for your travel.