The Weird World Of British Bathrooms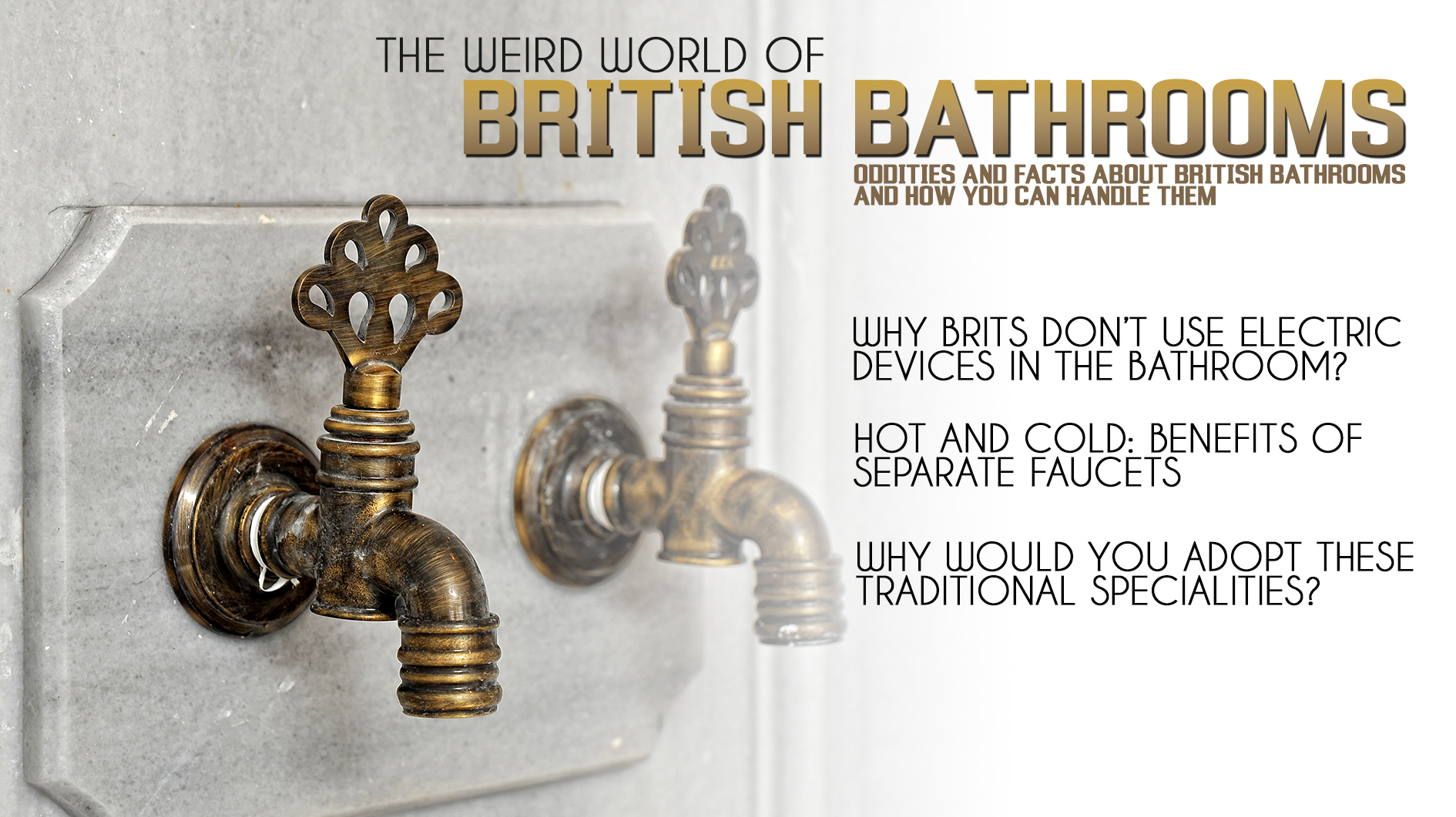 There are many important differences between American and British culture and customs – including our use and spelling of the English language, what side of the street we drive on, and our governmental system. Of course, the list continues with other obvious variations between our societies, yet one key difference that is not often explored is the peculiarity of the British home bathroom.
Usually, these differences have to be experienced to be understood: travellers are usually quick to notice these subtle, unusual features of bathrooms in the United Kingdom.
Electricity in the Bathroom: How do the Brits Dry their Hair?
Nearly everyone knows that American plugs do not fit into the electrical sockets in other countries, including the UK – which is solved with a quick fix in the form of an inexpensive adaptor that can be purchased at nearly any hardware or electrical product store. However, most people will be surprised to see that they can't plug these items in anywhere in a British loo: many visitors to the United Kingdom notice that their hair dryers, toothbrushes, and other common bathroom necessities have to be used in other rooms, which seems somewhat counterintuitive.
Electrical shavers – available in England with the proper plug – can be charged in some British bathrooms, however, if the necessary outlet is present on the wall. Even more strange – bathroom lights are not controlled by the traditional on-and-off switch, but by a cord that is pulled from the center of the ceiling.
Why does this pattern exist? This isn't just a cultural difference, but the result of strict housing regulations that are still in place today: these rules were designed for safety's sake, to prevent any electrical shocks from occurring from water splashing on wiring or appliances.
Hot and Cold: The Strange Phenomenon of Separate Faucets
Travellers often notice that British bathrooms have separate taps for hot and cold water. In fact, it was during a wartime visit to Moscow in 1942 that Winston Churchill himself noticed that his own nation had a peculiar custom of separating hot and cold water, as he enjoyed using the single faucet to find the perfect water temperature for washing his hands. This tradition, a proud feature of authentic Victorian homes, is still present in most WCs today.
This curious pattern is the result of several different reasons. First, regulations exist that are very strict about how hot and cold water streams are allowed to mix inside a tap, for reasons of contamination that could affect a whole neighborhood based upon the structure of the plumbing system. Special valves must be installed such that a water tank does not send water streams of potentially contaminated water back into the greater common system. Another great benefit: separate taps are less expensive!
Celebrating British Tradition: Embracing Bathroom Oddities in Your Own Home
It is relatively simple to adopt British WC customs into your own home, even if you live on the other side of the pond. Many homeowners in America like the aesthetic of separate water faucets at their sink, as it adds a unique look to the bathroom. Furthermore, many families appreciate the idea of removing electrical outlets from the walls in their bathroom for the safety of their children.
If you want to adopt any of these British water closet peculiarities into your own American powder room, or you simply want to have a consultation with a professional about ways to upgrade your bathroom space, seek out the expertise of the specialists at Fischer Plumbing. They will be able to help you know what renovations might best update your current bathroom setup, and pinpoint what peculiarities set your powder room apart from the rest.