Fed up of spending hours trying to clean your drive way, walls or shed? Why not hire out a high quality pressure washer? In this article we will explain the benefits of hiring a pressure washer for around the home.
What is a Pressure Washer?
Pressure washers are powerful pieces of equipment that are used to blast away tough dirt and grime. They have powerful jets which shoot out water in order to eliminate hard-to-shift filth in one quick and simple motion. Pressure washers can be used to clean a wide range of objects and surfaces around the home.
Depending on the model you hire, you will either have to connect your pressure washer up to your homes main water supply or fill up its own in-built water tank. Pressure washers have a powerful motor drive that jets the water at a high pressure so that it hits the surface with force. They usually come with a variety of nozzles to choose from, depending on what you are cleaning.
Saving Your Time and Effort
Hiring a pressure washer to use around the home, will save you so much time and effort when it comes to cleaning. Scrubbing walls, fences, sheds and garden furniture with a hand cloth can be extremely tiring, not to mention time consuming. By using a pressure washer to clean your exterior walls, fences and furniture you will have them looking as good as new within seconds. All you have to do is stand there and let the pressure washer do all the hard work for you!
Save Money
By hiring a pressure washer instead of buying one, you can save yourself a lot of money. It is unlikely that you are going to need to use your pressure more than once every couple of months, so hiring one works out much more cost-efficient and sensible. Another alternative is to hire professionals to carry out the work for you. The thing is, pressure washing isn't very difficult, so you are better saving your money and having a go at doing it yourself with a hired washer. Type a local search term, e.g. Brighton Tool Hire and select from a local company.
Improve Health and Safety
Sometimes mould and contaminates can appear on the exterior of houses, as well as sheds and other out buildings. If you notice mould on your buildings then you need to get rid of it as soon as possible. A great way to do this is by hiring a pressure washer, as they enable you to simply blast it away. Pressure washing mould and contaminates off your buildings will also help to pro-long their life and prevent you from having to make repairs.
See Also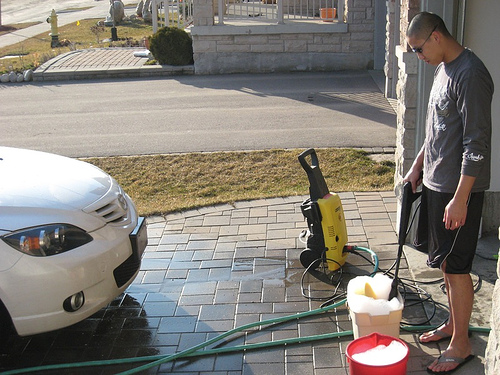 Pressure washers are also fantastic for cleaning driveways and pavements where oil or grease stains may have appeared from vehicles. Spilt oil and grease can be extremely slippy, causing a safety hazard on your property. By simply using a pressure washer to blast them away, you can improve the health and safety of those living in, or visiting your home.
Conclusion
If you are looking for a quick and easy way to clean your drive way, walls, fencing or sheds, then why not hire a pressure washer? They are very straight forward to use and will have your objects and surfaces looking as good as new, in no time at all. Although you can purchase pressure washers or hire professionals to do the work for you, it is much more cost effective to hire the equipment and do it yourself, especially if you are only planning on cleaning your objects and surfaces every few months. Hiring equipment online is a cost effective and smart solution for homeowners.