The 5 Most Interesting Hotels in Chicago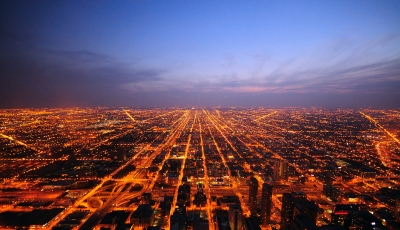 Chicago is more than just the "Windy City," it's a fascinating, fun and historic American metropolis full of plenty to explore on your next vacation or business trip. In addition to the many sights and attractions this Midwestern gem claims, you'll also find a number of interesting Chicago area hotels designed to make your home base in Chi-town a worthy destination all its own. Read on to learn more about five of the most interesting hotels in Chicago!
The Waldorf Astoria
Opened in 2009 as "The Elysian," this new property has been twice honored by Conde Nast Traveler as one of the very best hotels in the country. The stunning 60-story hotel houses nearly 200 rooms that feature luxury amenities like fireplaces, marble tubs in the bathrooms and furnished open-air terraces. But over-the-top luxury isn't the only interesting feature of the Waldorf Astoria; guests will also delight in the elaborate architectural details scattered throughout, including towering spires and larger-than-life statues in the spacious, uniquely designed lobby.
The Rainbow Motel
For a totally different experience, adventurous couples may want to try the bizarre pleasures of The Rainbow Motel Pink Palace Fantasy Suites. An inexpensive motel featuring uniquely decorated suites all equipped with in-room Jacuzzis, this unforgettable Chicago spot brings to mind the Philadelphia hotel featured in the 2011 film "Blue Valentine." Book early to reserve the Space Walk room, which sounds uncannily similar to the Star Gazer room used by Michelle Williams and Ryan Gosling in the film. The Rainbow Motel is located near Garfield Ridge, a decent drive away from busy downtown Chicago, but certainly worth the trip for the goofily romantic lodgings offered at this unique Chicago hotel.
Congress Plaza Hotel
If you're looking for the perfect combination of history and luxury, check out the Congress Plaza Hotel, located near Chicago's famous Magnificent Mile shopping district. This hotel offers nearly 900 unique rooms and over 30 lakefront suites. Originally built in 1893, this property is a regular stop on the Weird Chicago Tour, with notable guests including Al Capone and several U.S. presidents. Local lore has it that the Congress Plaza is haunted by several different ghosts, but you'll have to check in for a night to confirm those rumors on your own!
The Chicago Getaway Hostel
For budget travelers and backpackers, The Chicago Getaway Hostel offers affordable communal lodgings close to the vibrant Lincoln Park neighborhood of downtown Chicago. Visitors can choose between private rooms or dorm-style bunks, depending on their budget. Common areas provide a number of entertainment options, including on-site communal dinners and pub crawls. Visitors can also stretch their dining dollars and enjoy a free continental breakfast each morning. For prospective students looking to check out one of Chicago's many universities, this hostel is a great spot to relax, meet other young travelers and stay in a convenient location without breaking the bank.
Hard Rock Hotel Chicago
Finally, for Hard Rock fans looking to get a little Chicago-style rock and roll, check out one of the 387 rooms at the Hard Rock Hotel Chicago. Night owls, take note: the lobby features live music and DJs nearly every night until 4 a.m.
Chicago is a diverse city, which its hotels reflect perfectly. Time in your hotel should be just as interesting as your time on the city's sidewalks. Check out one of these hotels to make your visit as interesting as possible!