4 Travel Ideas If You Arrived In Bergamo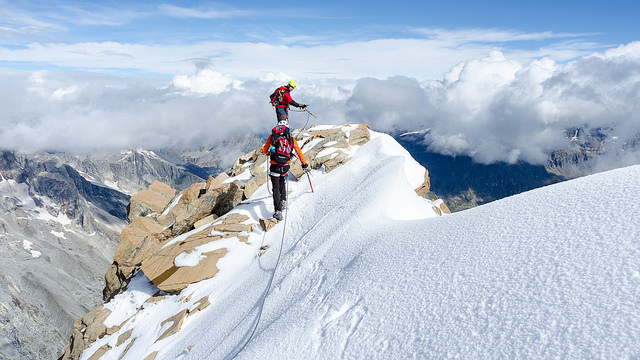 So, you have arrived at Bergamo airport. What will you do next?
Province of Bergamo is rich in small lovely towns surrounded by picturesque landscapes. You will be amazed both by rich historical heritage of the province and the majestic beauty of its nature.
Green, pristine region with breathtaking Bergamese Alps and wonderful high mountain meadows is a perfect place for spending free time in nature's lap doing various kinds of sports both in summer and winter.
Upon your arrival at Bergamo Airport, you'll have a few options of arranging your vacation. You can:
– go on conquering the Alpine summits
– fully relax at lake Endine or Iseo
– discover historical heritage of Bergamo itself and other provincial towns in the neighborhood
– take a bus to Milan and dive into the sweet world of luxury shopping.
So, make your choice and get prepared to your best summer vacation!
Conquer the Alpine Summits
A one-hour drive by car to the north of Bergamo will bring you probably to the most beautiful place in the whole Lombardy – the Bergamask Orobie Park. The Park, occupying an area of 70 thousand hectares, was founded in order to protect this piece of alpine heaven from harmful human activity. But it doesn't mean it is deprived of the developed tourist infrastructure.
In fact, tourists are offered different kinds of activity apart from traditional hiking and skiing. For instance, some hotels here have prepared special excursions on snowmobiles or ATV. In winter you can try to slide down the snowy hill on snow cycle, in summer – go on canyoning with professional instructors.
Besides doing sports, you can simply enjoy breathtaking views of the alpine valleys and even become a witness of Serio waterfall release. Being considered the Italy's highest waterfall, the Serio Falls can be seen only a few times a year usually during the period from June to October. The waterfall is located not far from Valbondione comune, which is a perfect place to stay in for a day or two.
Spend a Romantic Weekend at Lake Iseo
There are two large lakes located within 50km from Bergamo. These are Lake Endine and Lake Iseo. If you don't mind to drive another 50km to the east, you can also visit Garda being considered the largest lake in Italy.
Lake Endine will be interesting first of all to naturalists and photographers, because it's rich in wildlife and is relatively secluded. Endine lies at an altitude of 340 meters above sea level and is fed by numerous mountain streams. In winter, it is usually frozen creating fabulous scenery.
You can enjoy the beauty of the surrounding landscape, which is reflected in the clear waters of the lake and relax in the lap of untouched nature.
Neighboring towns despite its small sizes can boast of some interesting historical attractions such as medieval Suardi Castle, ancient churches and a few small museums.
In comparison with Endine, Lake Iseo can offer a larger choice of entertainment for tourists. It's a few times bigger and have more towns located at its shore. It even has three islands, and one of them called Monte Isola is considered the highest lake island in Europe! It has height of 600 meters. It's even inhabited and has a population of about 1800 people.
The other two islands are tiny. One of them called San Paolo has the ruins of a monastery, whereas the second island Loreto can boast of remains of the medieval villa surrounded by cypresses and pines.
Dedicate a few Days to Exploring the City of Bergamo Itself
The most interesting part of Bergamo is its city center completely surrounded with ancient walls built by Venetians in the 16th century. Because of these walls, the city is conditionally divided into two parts – Upper Town (Vitta Alta) located within walls on the top of the hill and Lower City (Citta Bassa) – modern districts outside of the walls.
Due to the small sizes of the upper Town, you can explore it on foot. In fact it would be quite difficult to drive by car through narrow cobbled streets. Instead you can use famous Bergamo funicular have being operating since 1888. It will take to the very top of the hill, where you can start your excursion.
The must see attractions of Bergamo are Vecchia square, where the most important historical building are located, beautiful Basilica of Saint Mary Major dating back the 13 century and interesting Lorenzo Rota Botanical garden with about 900 species of plants.
Don't foget about the city walls themselves! It's a true pleasure to take a stroll along ancient fortifications overlooking the Lower Town.
Discover Milan – the World's Fashion Capital!
This topic deserves a separate detailed article, but if writing in a nutshell, Milan is an ideal destination for people interesting in buying branded clothing from the latest collection and tourists keen on architecture, arts and history.
It will take about 45 minutes and 5 EUR to drive from an airport to Milan city center by bus. But if the main purpose of your visit is shopping, then it would be better to rent a car, because the best outlets are located in some distance from the city. In fact, the famous outlet FoxTown (so often mentioned in Milan tourist guides) is located in other country, in Switzerland, in about 60 km from Milan.
But a real jewel of Milan isn't its glamorous boutiques at all, but a huge, majestic Duomo built of white marble in the Gothic style. Some people call the Duomo the Eighth Wonder of the World due to the fact that the Cathedral is considered the world's largest building made of marble.
Another great Milan attractions you shouldn't pass by are Sforza Castle built by Duke of Milan Francesco Sforza in the 15th century, and Monumental Cemetery – the burial place of many famous Milan residences and in same time a real open-air museum with amazing sculptures.
How you might have already noticed, it's preferable to rent a car in Bergamo to be able to plan your vacation regardless of the public transport schedules. The good news is you can book a car online, and it will wait for you right upon your arrival at Bergamo Airport!
Author Bio: Lily Berns tries to find the best and brightest things to do, while you travel in different cities of the world. For comfortable voyage it's better to use rental vehicle which you can choose on rentalcars24h.com