Tadoba and Other Top Destinations In India For Spotting Tigers
Since the tiger count in India makes up over 70% of the world population, there has been a renewed enthusiasm in people to undertake tiger safaris in the reserves that are also home to a great variety of other animal and bird life not to speak of insects, and flora. Tigers can be pretty elusive in their natural habitats and if you are really eager to see the magnificent animal you should be heading towards a tiger reserve where sightings are more common. A pick of the five best options are: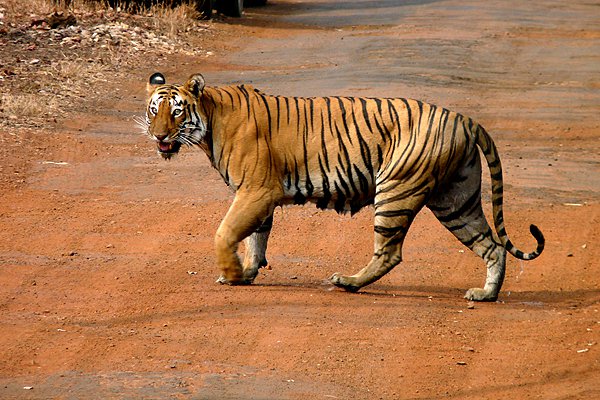 Bandhavgarh National Park, Madhya Pradesh
This reserve has the maximum number of tigers and hence offers the best opportunity of a sighting. Situated in Madhya Pradesh's Vindhyan Hills, the park covers 694 sq. kilometers divided into four zones, among which the Tala zone is considered to be the best not only for tiger-spotting but also for the diversity of biological resources. Besides tigers, the national park is a very attractive destination for bird watching with more than 250 species present. Common sightings include plum-headed parakeet, coppersmith barbet, alexandrine parakeet, rock pigeon, Indian grey hornbill, and the orange-headed thrush among many others. There are over 80 butterfly species and an immense population of reptiles that can be seen with a little patience.
Ranthambore National Park, Rajasthan
The reserve covers a vast 392 sq. kilometer area that is divided into quite a few sectors, out of which Padam Talao, Kachida Valley, Anantpura, Ranthambore Forts, Bakaula, Rajbagh Ruins, and Lakarda are more significant for spotting tigers. In addition to tigers, Ranthambore has quite a few leopards, Indian wild boar, striped hyenas, Indian flying foxes, Hanuman langurs, Indian porcupines, Indian civets, Indian gerbils, longeared hedgehogs, sloth bears, macaques, mongoose, and black buck to mention some of the more prominent residents. You can see a large variety of birds; among the 272 recorded species are woodpeckers, kingfishers, bee eaters, Indian gray hornbills, cuckoos, Asian palm swift, crakes, parakeets, etc. Tourists also get a great thrill by spotting the crocodiles.
Kanha National Park, Madhya Pradesh
Situated in the Mekhal Range and covering 940 sq. kilometers, the Kanha reserve has sal forests and grassy meadows that tigers love to haunt. The usual places where the tigers are spotted are the innumerable streams with sparking water where the tigers come to drink, or out in the sun basking. Even if you are not lucky enough to spot a tiger, you will definitely be able to seemany other wildlife the reserve is renowned for, such as swamp deer, spotted deer, barking deer, gaur, four-horned deer or the magnificent barasingha. The place abounds in snakes such as pythons, kraits, vipers, cobras, keelbacks and the more innocuous ones like rat snakes and grass snakes. There is great diversity of bird and plant life too for the enjoyment of naturalists and ordinary tourists.
Corbett National Park, Uttarakhand
Covering around 1288 sq. kilometers, this is the country's oldest national park and the birthplace of Project Tiger. Due to the vast area and the relatively low tiger density, it can be difficult to spot the coveted animal but if you do manage to encounter one, it will surely be the most memorable experience ever. Apart from tigers, Corbett is home to over 50 species of animals, 500 bird species, both migratory and resident, as well as 488 plant species of great diversity. Elephant safaris are a big draw here.
Tadoba National Park, Maharashtra
Covering 625 sq. kilometers, Tadoba is today one of the best place for tiger spotting. The ideal time to spot a tiger here is in the summer when the lush vegetation dries up considerably and the tigers come regularly to drink at Tadoba Lake, as well as popular watering holes at Panchadhara and Pandharpauni. What also makes tiger spotting at Tadoba a fruitful experience is that the entire reserve is open to tourists without any restrictions. Visitors can also see carnivores such as leopards, striped hyenas, jungle cats, sloth bears and herbivores such as nilgai, sambhar, barking deer, four-horned antelope, gaur, etc. There are 195 avian species and 74 butterfly species also to be admired. Tadoba makes it easy for visitors with a large variety of accommodation for every budget. The best Tadoba resorts have all the conveniences that even international tourists will appreciate.