Student Life In South London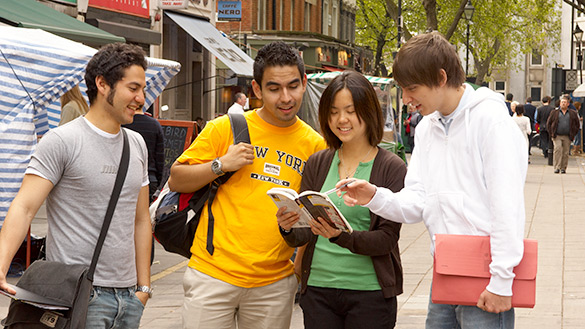 A higher cost of living, higher crime statistics, the perception that London is student unfriendly; these are just a few of the reasons many prospective students dismiss London as a viable city in which to continue into higher education. There is no getting away from the fact that student life here is very different to life at any other university in the UK, however this article will look to dispel some of the myths about student life in the capital and highlight a handful of the many benefits there is to living and studying in south London.
The Cost
The most pressing issue facing many prospective students is how they are going to fund their studies. Almost every student's budget is tight, even with help in the way of a maintenance loan and grants. The worry is that a combination of high rental prices and the inflated cost of living in the capital will price out all but the most affluent of students.
Firstly, whilst it is true that rental rates in London are the highest in the country, there are extra provisions in the maintenance loan provided by Student Finance to accommodate this. Moreover, student halls owned both privately and by colleges offer student rooms at less than the average cost of living in London privately.
South London is blessed with a number of halls to accommodate each of its colleges and universities. A Google search for 'student accommodation Camberwell' for example, will return a list of the best. In addition, rental prices are generally lower south of the river.
After the cost of living, it is untrue that studying in London is any more expensive than studying elsewhere in the country. Discount supermarkets can be found across south London, the unions of London South Bank University and the University of Greenwich offer cheap nights plus the unions of Kings, UCL and London Metropolitan are just a short trip north across the river.
Moreover, unlike in many student cities, part time work is relatively easy to come by in the capital meaning students can earn extra cash alongside carrying out their studies.
The Culture and Arts
The conception that London is somehow unfriendly towards students is misplaced and short sighted. The capital is a bustling student city, packed full of culture for students, professionals and tourists alike.
London's Southbank Centre is a perfect example of such a cultural gem. Comprised of three performing arts venues, an art gallery, a library and a number of shops and restaurants the 21 acre site continually boasts an itinerary of dance, music, art and drama. There are notable exhibition spaces and museums in Bermondsey, Rotherhithe and Greenwich. The South London Gallery in Camberwell provides free art for the people of south London and the Dulwich Gallery has had its doors open to the public for over 200 years.
Nightlife
From the Tram and Social in Tooting to Fire at Vauxhall, south London has nightlife for students with any taste in music. If clubbing is your scene then visit the likes of Clapham Grand or Infernos for chart and cheese or Fire in Vauxhall for house and electro. The Ministry of South club still hosts world renowned DJs at its venue in Elephant and Castle for those into big club sounds, house and electronic music.
If bars and pubs are more up your street then south London has plenty to offer, from classic boozers to riverside cocktail bars. The Ship in Wandsworth is a favourite Sunday haunt amongst students, sports clubs and graduates alike.
The Opportunities
Something many prospective students simply do not realise about London is the countless opportunities it offers in terms of networking and future employment. Whilst the City is north of the river, its influence spreads deep into the south of the capital and employers are forever hosting recruitment and networking events across south London campuses.
Safety
Whilst there have been reports in the press that point to higher than average crime rates in the capital than elsewhere in the country, it is simple scaremongering that should be taken with a pinch of salt. Crime is a factor across the UK and students in London feel no less safe than anywhere apart from perhaps tiny student towns like Durham or St. Andrews.