Small Restaurant – Huge Inspiration: Stylish and Functional Design Ideas
Most of us enter new business ventures with a touch of caution. That, combined with limited finances usually reminds us not to take a bite too big and thus we choose to start a small business. If it is a restaurant you want to run, you know that your location is almost more important than your menu. Hoping to lower expenses and considering the size of your business, you will probably choose a smaller space which is more affordable to rent. All you need to do now is win the challenge placed by the size.
Lights and reflections
Try renting a space with a big window allowing a lot of daylight in. If you are not able to find one, that is still fine, you will just need to use a different approach. Lighting will set the mood of your restaurant so you have to be careful when deciding what kind of atmosphere you want to create.
Daylight and white lights usually go better with cold hues, whereas yellow lights flatter warm colors. Use mirrors to create a sense of greater space. Everyone has at least once in their life walked towards a mirror thinking there is something out there. Most of the trendy restaurants are choosing LED lights, because they are eco-friendly and sustainable, like the ones you can find at Azoogi.
Cheat using colors
Colors can do wonders for you and your restaurant. If you care to make your restaurant seem more spacious, paint it a cool color. Use light hues of green or blue or neutral white to make the light reflect. Don't worry, this will not make your restaurant look boring, these colors are perfect to give you a sense of open space and to serve as a background or an empty canvas for whatever you decide to do next. Metals such as gold, bronze, and brass combined with these colors will feel like a ray of sunshine in a wide valley. Making your ceiling lighter than the walls will make it seem higher than it actually is. You can accentuate one wall and it will feel as if though the room is stretching in that direction. If you choose cool and light colors for your walls make sure you create strong contrasts with the furniture and décor.
Another idea is to have light walls and light furniture. That way you can basically create a feeling of empty space. Imagine having white walls, steel frames on glass tables and see-through chairs. It seems like there is nothing in, doesn't it? As an example of this, we have not quite see-through, but covered in white Café Ki in Tokyo.
Caring more about the sentiment and not the size of the restaurant can lead you to select warm hues for your walls. Yellow, red or brown, the colors of fire, will keep you warm and safe. This way you will achieve the sense of cosines with your guests. Combine it with the right lighting and walls!
Furniture
Your furniture should not be big, that is, it should appear light on the scale. An average small restaurant could probably fit up to five puffy booths so avoid using those. Your best option is using bars and bar stools combined with long banquette seats running alongside your walls. 'The musket room' in New York imitates the outdoor style. They have brick walls covered in light blue, grey and white combined with some small-scale wooden chairs with dark blue seats and a banquette seat accommodating tables for two.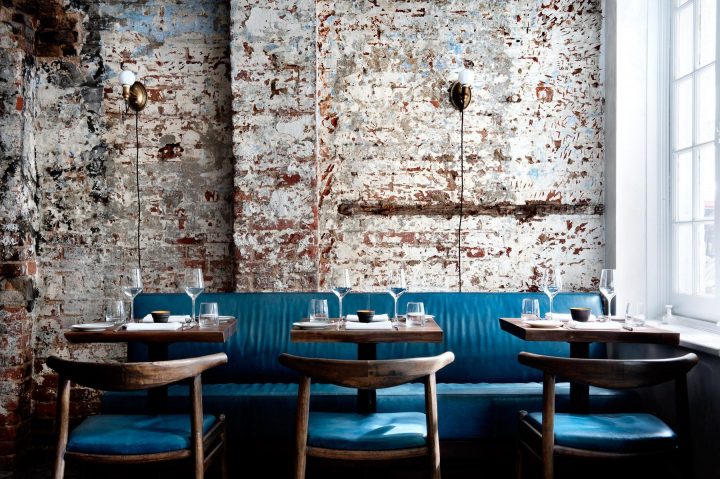 They have combined the cool hues but their walls are nowhere close to being boring, banquette seat does not take up a lot of space but can fit a lot of people and small furniture leaves a lot of room to maneuver.
Kitchen
In order not to waste any precious space, I suggest not building a kitchen separately but make an open one right behind the bar. If you are doing this, you have to ensure that you have a killer ventilation system as none of the smoke or smells should cross the bar line. None of the equipment should be placed above the countertop height. A kitchen built this way is very exposed so everything needs to be perfect. This may be a good reason to paint it a dark washable color in order to be able to conceal and clean any splashes or spills that occur throughout the day.
You will need a lot of storage space as both your bar and your kitchen are located at the same spot. Use suspended shelves in your kitchen and above the bar to create a cool place to keep your drinks and glasses as well as to decorate. One thing I find should not be exposed is the food fridge… Perhaps you can place a panel at the very end of your bar and have it placed there.
Restrooms
No matter how small the restaurant is, you should not have anyone sit next to the restroom area. Those would be the worst tables ever. Depending on the layout of the premises, it should either be located at the very entrance or behind, that is, next to the bar but not on the kitchen side. This way you will allow the people a sense of privacy and hygiene.
Be creative and leave your mark in the restaurant. Choose a popular theme you are comfortable with and turn your restaurant into a homey get-together spot for your regulars. Think of the places you like to visit and atmosphere you want to have in your restaurant. The way you want it to make you and your guests feel will determine the design you should select. You need to know yourself and the target 'audience'.