Seven Must-Follow Rules for Under-Cabinet Lightings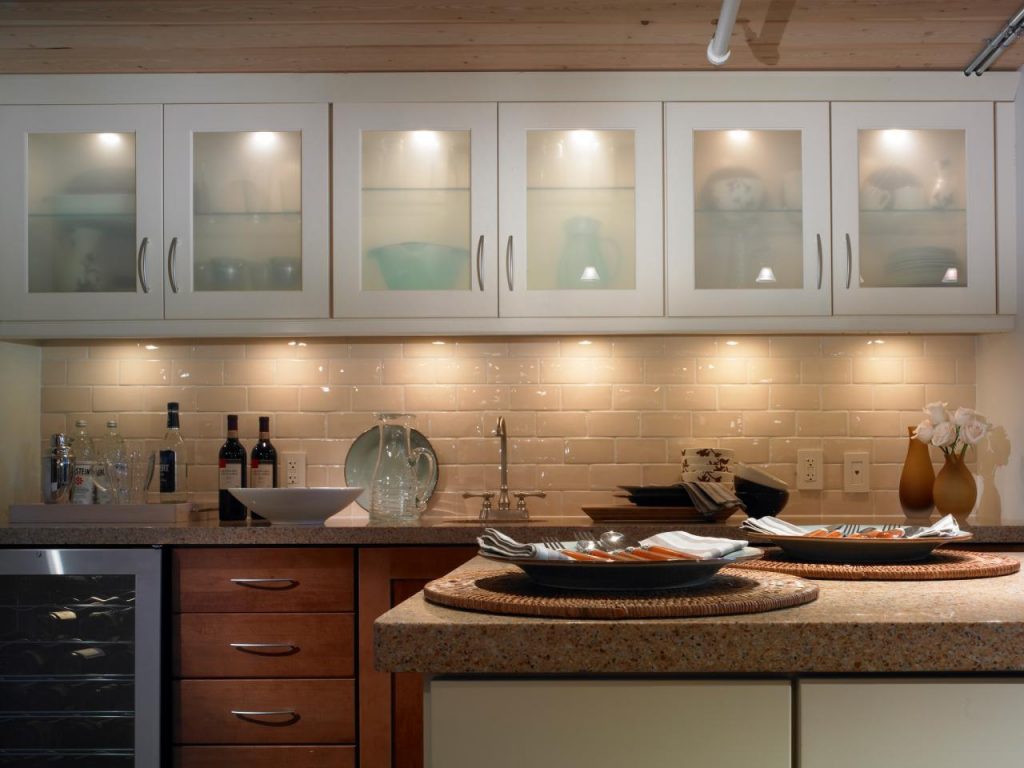 Do you have any idea of how poor kitchen lightings can cause irritation, headache, neck and shoulder problems and eye strain? Moreover, poor light fixtures are bound to ruin the entire effect of your incredible kitchen design.
People think that most significant factors while designing a kitchen revolve around  the colour schemes, storage solutions and appliances. What most us usually forget is that the light fixtures are equally important in the kitchen room.
Perfect lighting makes your kitchen room warm and more welcoming. It makes it a place that your family and friends love to gather and mingle around. Such a kitchen room is ten times better than the kitchen designs that make us feel dull and gloomy, further making the kitchen chores sad and depressing.
Therefore, it is very crucial that you pay attention to the light fixtures in your kitchen room. Apart from making your new kitchen design look dull, improper lighting causes several health issues too. A simple way of brightening up your dull kitchen room is by installing some under-cabinet lights.
Under-cabinet lighting is a new classy way of enhancing your kitchen's ambience. However, there are certain rules that you need to follow for under-cabinet lighting.
Seven must-follow rules for under-cabinet lightings in your kitchen room:
Most people consider the under-cabinet lights as 'under-counter' lightings. The truth is, they are not mounted under the counter, and as the name suggests, they are mounted under the wall cabinets. They basically light up the countertop.
The main reason behind people opting for under-cabinet lighting is that they light up the work area (which is essential). But we believe there are few ground rules you need to know before you mount them under your cabinet.
Make sure that you are mounting the lights under the wall cabinets and at the front not the back. The primary purpose is to light the work surface and not the back wall. As the under cabinet lights are half the depth of your base cabinets, mounting them in the front of the wall cabinet will provide the required lighting on the entire work surface.
If your work surface is highly reflective, made with materials such as polished black granite, it will certainly look like a mirror when it is lit from above (also bouncing off terrible glare off the work surface right in your eyes). In case of such a situation, use an under-cabinet lighting fixture that has a frosted lens. It will hence diffuse the lights and not blind you when they are on.
Never use individual puck lights when you are planning to install under-cabinet lightings. But if you want to use puck lights, make sure that you space them very close to one another. This will prevent you from getting caught in hot-spots under the light and dark spots between the fixtures. Because if this happens, it is bound to strain your eyes and stress you out.
Using LED strips may not be a wise idea, as they are not as bright as other types of lights such as halogen, xenon or fluorescent. In case you are using them, then you will have to use two strips placed side-by-side, which will double your overall cost. However, the plus side of using LED strips is that they last longer. You never really have to replace them, unless you are leaving them on 24×7. Even then, they are likely to last for a good 15 years or more.
Make sure that you are installing the light switch that controls the under-cabinet lightings in the same place as that of your general room lightings. It can get very frustrating if you have to run around the kitchen merely to control various light sources.
The colour temperature of the under-cabinet lightings you choose will have a major effect on the colours of your backsplash tile and work surface look. If the light is very cool, warm colours like reds and oranges will look dull and dead. Moreover, a cool light makes green or blue more vivid. So make sure you consult a home designer before selecting under-cabinet lights for your kitchen.
Lastly, it is important that your cabinet has a face-frame that creates a recessed cavity under the wall cabinet. This will block the under-cabinet lights from directly hitting your eyes when you sit at the kitchen work surface.