College dorms are not glamorous living spaces. Many are rather dull, plain and dated. And unfortunately, you can't change the biggest elements in the room, such as the paint, flooring or beds. However, that doesn't mean your space can't be colorful, fun and unique. Here are a few ways to decorate your dorm so that it doesn't look dull and boring.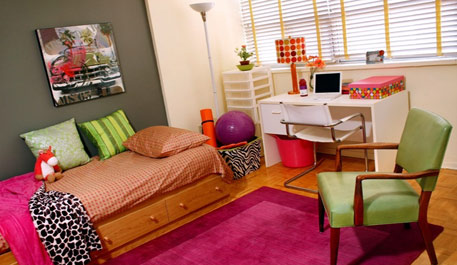 Add Color Into The Space with a Fun Comforter
While you may not be able to paint your dorm room, you can add some color and make your living space vibrant. Adding a colorful comforter, pillows or throw blankets will help you to spruce up your dorm to make it feel as if you are at home. Obtaining a comforter that has multiple colors and design patterns will also make the space appear to be larger, which is perfect in a small dorm room.
Place a Throw Rug on the Floor
Place a throw rug in the middle of the room as it will add both texture and warmth to your dorm. The space that you are spending the majority of your year at does not have to feel so cramped and bland. This is your opportunity to figure out your style, if you have not done so already. Experiment with different colors or patterns to find the look that is best suited for your space. Keep in mind, vertical stripes lengthen a room, while horizontal stripes make it look wider, so this is a great trip to keep in mind to make a small dorm room look larger.
Make Sure There is Enough Light
Not having enough light makes a space look dreary and dull. Bringing in plenty of lighting helps to brighten the room and make it easier to study. Consider playing around with light bulbs that mimic natural light, especially if there aren't many windows in your space. This can make a cold, dreary space sunnier and brighter.
Bring in Multi-Functional Pieces
Bringing in multi-functional pieces such as storage cubes, that can double as storage pieces and seating is also a must in small spaces, such as dorm rooms. You already have a limited amount of space, so multi-functional pieces can give you all the function you need while keeping the space from being crowded. Make a list of the different items you will need in your dorm room, such as a table, desk, storage and seating. Then head to your favorite store and see what pieces they have that can serve two or three pieces. This is the best way to search out multi-functional furniture for your dorm room.
Place High School Memorabilia On Your Wall
Unfortunately, you can't paint your dorm room and typically the walls in these rooms is plain white in color. But that does not mean that you can't have any color, design or texture on the wall. When you graduate from high school, you are often left with memorabilia from your high school days. This may include pennants, your graduation stole and honor cords or pictures. While you may be hesitant to place items from your high school days on your walls in college, it can be very comforting. It is very common for people to become home sick when they first start college. It is often the first time they are away from home, away from their friends and away from family. Placing familiar items on your wall helps add character, color and design to the wall.
Bringing certain elements into your dorm room, such as colorful comforters, a throw rug, plenty of light, multi-functional pieces and wall decals can spruce a boring place up. This gives the space personality and an identity.