Samsung Galaxy Note 4: Samsung's First 2K Display Smartphone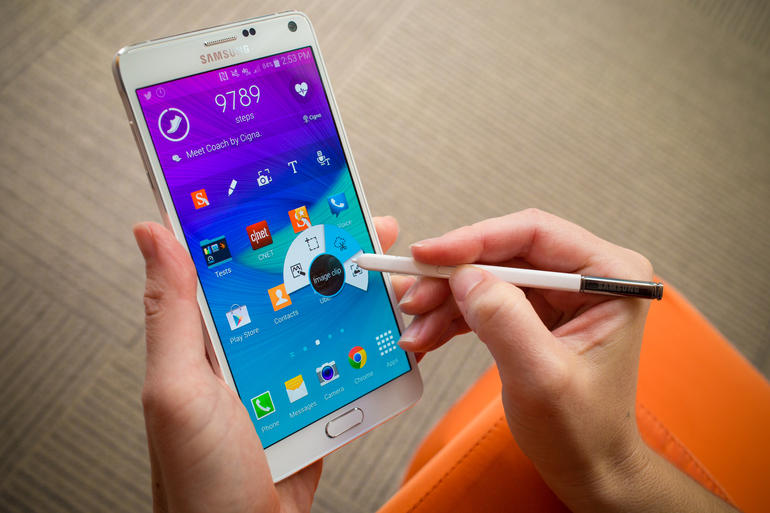 Perhaps the 2K resolution is not needed on a smartphone as Huawei says and some other fellows, but honestly if you give us a choice between a screen full HD and a 2K HD resolution, then without any doubt we will pick the 2K resolution the Galaxy Note 4. The LG G3 also has a very good screen but with some shortcomings that make such angular vision is not as good, this is one of the points where the Galaxy Note 4 wins by a landslide that of its neighbors in Korea, and Therefore they do possess best view and angels on screen.
For the battery, Notable high are the two words that describe Galaxy Note 4 battery, the smartphone holds plenty of work day and it can go further, these data are distorted or not depending on whether use one wearable or not, because all the time the device have been connected Gear Galaxy S then also the Samsung Galaxy Note 4 survived for a day. If don't use any wearable, the smartphone is therefore able to reach two working days, although tightly if we do a load. Moreover, Note 4 performed fairly quickly to 50% charging in just 30 minutes of connection through charger.
As usual Samsung includes its programs of energy savings that will allow us to extend the battery of the smartphone beyond two days without any problem, or use the ultra-energy saving mode if we took, in a way that extends the battery of the smartphone up to 24 hours if we have 10% battery.
The Galaxy Note 4 is a smartphone with one of the best cameras on the market. And it's 16MP camera works with quality and it would amaze you for sure. And the front 3.4MP camera is another awesome unit of Note 4. The photos in low light conditions are excellent and do not have a lot of noise in addition to full sunlight saturation is not high, of course the HDR mode is one of the best facets of smartphones from Samsung and here works with high quality.
It is good smartphone despite the improvable points, however, and as with other smartphones like the iPhone 6, there are equally valid options for less money than make opt for the Note 4 is harder than it should. In our opinion the galaxy Note 4 should have better finishes to live up to the high end today, but this is a matter of taste.
In performance, especially battery and screen this is one of the best, and in areas such as camera also have a good device to capture moments. If we talk about some problems, but in most cases are problems with Software and Samsung will surely solution with the passage of time. And next Android update is also rolling out, so we would recommend update with the latest Android version and enjoy the flawless performance. Also, we want to mention about the next surprise from Samsung in form of Galaxy Note 5, which is approaching in the September 2015.