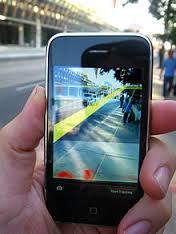 The next frontier of app development breaks the borders of your mobile device screen. Companies are investing substantial funds in this new technology to reform and enhance user experience.  These new applications will transform the way consumers use technology to shop for furniture, televisions, and other products.
Let's examine how the app game is changing with the rise of innovative augmented reality technology.  The future of innovation includes trendy 3D enhancing glasses, contact lenses, and other eyewear that breaks the dimensional plain of computers. The way we see and interact with the world will be completely changed through this new technology.
Companies Investing in the Technology
Several companies are jumping on board with this new technology to improve their marketing services to attract consumers. Here are a few developments from companies that don't want to fall behind in the race to transform business through augmented reality.
Ikea
The new Ikea catalog app allows users to see how possible furniture looks in their homes.  You won't have to go through the process and hassle of measuring the items at the store and comparing sizes in your available space at home.
Through your smartphone or tablet, you can project the 3D images of the actual sizes of select furniture pieces in your home.  Viewing the furniture in real time in the convenience of your own home completely redefines the shopping experience for users.
The app is still under construction. The entire catalog isn't available to preview and there are a few sizing issues.  Other than those caveats, the Ikea app demonstrates the advantages of augmented reality development and how it may affect shoppers.
Nokia
Unemployment still drastically affects countless Americans.  Finding a job is exceedingly difficult in the fast online world.  Competition is stiff and without valuable networking or connections, your chances are severely limited.
Nokia strives to reshape job hunting through the JobLens app. This mobile augmented reality application shares job listings over an interactive map.  It shows the exact location of potential employment opportunities.  JobLens also accesses your social media information to discover if you're connected to any hiring managers.  This mobile application offers a different perspective at networking.
Care Finder
This augmented reality app is fairly straightforward. It's very easy to lose your car when parking at the mall, movies, a baseball game, or anywhere crowds are found.
You no longer have to look like a fool who lost his car with the car finder app.  The application utilizes your smart phone camera to find your car.  Once located, it gives your directions to the closest address or location to your vehicle.
Google Goggles
Access a search engine through your camera. The innovative image recognition technology implemented in this app enhances the way you view and search for everything. The usefulness for this app is limitless.
By holding up your camera to buildings, books, barcodes, or any other physical objects, you can quickly gain information on the images.  Google Goggles completely changes the way we access information through our smart phones.
The development of wearable computer technology is going to revolutionize smartphone technology.  This ongoing technology improves quality of life for people. How will augmented reality apps influence and improve your life?
Image Source – miramichionline.com